8 Ballpoint Pens for Presents
If you favour the reliable ballpoint pen over fountain pens, choosing a new pen can be a daunting task. There are many different types of ballpoint pen out there, making it difficult to pick just one. Whether you want to know how it writes, how it feels or it's style, there are many things to consider. Here are 8 of the best ballpoint pens available now. Internet-inks guide is here to help you choose the right ballpoint pen for the best present to a loved one, or even yourself.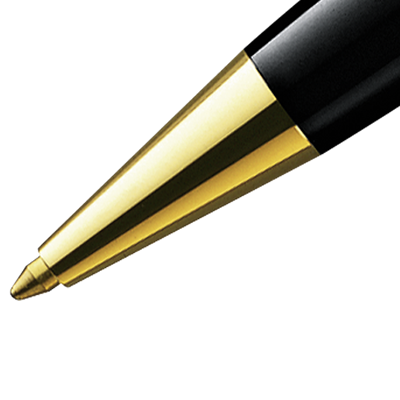 RRP: £200.00 | Internet-ink's Price: £171.87
With only 3000 pens available worldwide, the Cross Limited Edition Sauvage Cinderella Ballpoint Pen is a unique pen. Each ballpoint is engraved with a serial number commemorating the year of Disney Cinderella. The sophisticated Cinderella design is printed over an ivory metallic lacquer base and enhanced with accents of silvery engraving designs. Presented in an exclusive keepsake box with Cinderella romance booklet and removable pen display, this Cross limited edition ballpoint pen will make a great gift.
RRP: £215.00 | Internet-ink's Price: £138.00
The striking Waterman Exception Slim Ballpoint Pen differs from most pen's with it's unique square shape. Inspiring to hold, the Waterman ballpoint produces perfect lines with every use. And thanks to its quality craftsmanship, the Waterman pen look great and writes great. A rich black lacquer and fine gold-plated trims highlight this pen as a modern classic.
3. Parker Urban Premium Pearl Metal Ballpoint Pen and Notebook Gift Set 1910299
RRP: £38.21 | Internet-ink's Price: £26.89
The Parker Urban Premium Pearl Metal pen has a high quality finish of classic pearly white with metallic highlights. A perfectly balanced weight for effortless writing and Lubriglide technology guarantee long lasting performance and all round writing comfort. This modern Parker pen features the classic arrow design on the clip and comes with an sophisticated Parker Notebook making it an ideal gift.
RRP: £35.00 | Internet-ink's Price: £23.25
The newest addition to the Swiss made 849 collection, the Caran d'Ache Brut Rosé ballpoint pen strives to be the best yet. Hexagonally shaped like the rest of the Caran d'Ache 849 pen collection, the 849 Brut Rosé features a distinct pink sparkling gold colour. The 849 Brut Rosé is designed for women, being light and comfortable, and at the same time retaining its iconic shaped. Radiating elegance with its a light dusting of glitter, the 849 Brut Rose thideal gift for yourself or loved one.
RRP: £37.00 | Internet-ink's Price: £31.37
Instantly recognisable, the Sheaffer Ferrari 500 Rosso Corsa Red Ballpoint Pen has a sleek design and high gloss finish in Rossa Corsa red, evoking the classic colours and design of the Ferrari race car. The Scuderia Ferrari Shield and the world-renowned Sheaffer White Dot, trademark symbol of writing excellence, sit proudly on the elongated clip. The perfect for any Ferrari racing enthusiast, this Sheaffer ballpoint pen is presented a luxury gift box bearing the Ferrari Shield logo.
RRP: £34.00 | Internet-ink's Price: £24.25
The Parker Urban Premium Amethyst Pearl pen is part of the new 2014 Vacumatic range. Striking contemporary colours, this ballpoint pen is a real design statement, with its bold colours and historic inspiration. Featuring a sandblasted aluminium barrel, engraved pattern, glossy black colour section, glossy chrome colour trim and a medium nib this Parker Ballpoint is stylish as well as functional.
7. Parker Urban Premium Pearl Metal Ballpoint Pen and Notebook Gift Set 1910299
RRP: £38.21 | Internet-ink's Price: £26.89
Finished in a classic pearly white with metallic highlights, the Parker Urban Premium Pearl Metal Ballpoint maintains Parker's reputation for high quality pens. A balanced weight for writing and Lubriglide technology lends itself to maximum writing comfort, and makes sure performance is long lasting. This modern Parker ballpoint pen comes with a genuine Parker Notebook, making it an ideal gift for all.
RRP: £90.00 | Internet-ink's Price: £78.93
Cross maintain their reputation with the superior Cross Apogee Black Star Lacquer Ballpoint Pen, hand-polished to perfection. Emphasized by polished chrome plated appointments, this Cross pen is timelessly stylish yet writes with a modern line to it. Slightly heavier than a traditional weight and with a broader shaft makes the Cross Apogee easier to hold and more comfortable to write with.
---
Internet-ink stocks Cross, Waterman, Parker, Caran d'Ache and Sheaffer ballpoint pens as well as many more in our online pen shop. If you need help choosing a pen, feel free to contact our support team who will be happy to help. Order today to get the right ballpoint for your present.