Cyber Monday
Great Deals This Cyber Monday! 15% OFF All Purchases
This Cyber Monday weekend we are offering some of the biggest limited deals on the website to all our customers. Check out the special offer pages and grab some great deals this weekend. Great for some presents for the family or just for yourself and bag a bargain now!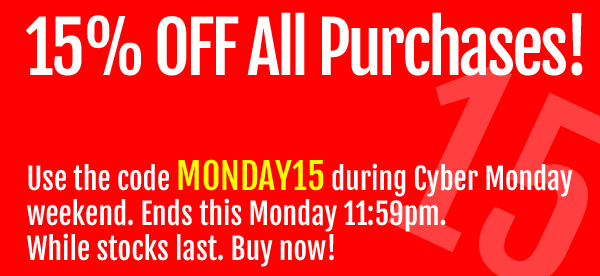 Ends Monday 11:59pm!
Please read a few notes about this offer:
·         The discount code needs to be entered as MONDAY15 exactly (all one word, no spaces, all capitals). (You can only use one discount at a time and you can't combine offer codes).
·         If you have problems with your ink our support team are available to help via email or freephone and live chat during office hours.
·         Please note our support offices and dispatch offices are closed at weekends and on bank holidays.
·         All orders will be dispatched in order received between Monday 30th November and Friday 4th December, so please be patient.
·         Due to this busy period Royal Mail orders may take slightly longer to be received We will always endeavour to get your order to you as soon as possible. If in doubt, please contact our support office.
·         This limited offer discount code will only be available before Monday 30th November 2015 11.59pm.
·         All orders placed outside this period will not qualify for the discount. So take advantage of this superb discount and share it with your friends and family!
·         If you've never used our high quality compatible inks or purchased our pens before, then this sale is the perfect opportunity to try them! Our compatible and remanufactured inks are risk free as we have a fantastic support team to guide you through buying and using them and offer a 1 year guarantee on all our compatible products.
·         If you have any questions or need help and advice ordering, please contact our support team on 0800 612 0874, they are here to help you get the best out of our service. Thank you to all our customers who have visited the website and placed the order and your continued custom.
Don't forget to review your products on our website at , your product reviews can help other customers and our business