Epson XP-405WH Ink Cartridges | Compatible Epson XP405WH Ink
Shop for our high-quality Epson XP-405WH ink cartridges. We stock both the original and compatible Epson 18XL ink cartridges which are designed especially for the XP-405WH printers.
Our Extra Large (XL) Epson 18XL compatible ink cartridges contain almost TWICE the amount of ink than Epson original XL printer inks. Rest assured these replacement inks are guaranteed to work as well as the original Epson 18XL cartridges for the XP-405WH printer. Our compatible ink cartridges come with a 1-year guarantee, free delivery and 10% off future compatible ink orders. Find out more information by selecting the products below.
13 Matches
Epson XP-405WH ink cartridges come with fast free delivery, 1 year guarantee and 10% off future compatible ink orders for Epson XP-405WH ink only available from Internet-Ink.
Get 10% Discount off Compatible XP-405WH Printer Ink
Don't forget Internet-Ink offer some of the cheapest XP-405WH ink online, due to the customer 10% discount you get on future compatible ink purchases, our customers keep coming back, make sure you buy your compatible Epson XP-405WH cartridges also known as the daisy ink from Internet-Ink today!
Buy Epson XP-405WH ink cartridges with a fantastic range of all of the colours and black cartridges available to purchase with fast free delivery. Buy Epson Expression XP-405WH ink cartridges which are available in our great value cheap compatible ink cartridges and Epson original ink for this printer.
Epson XP-405WH Compatible Ink Cartridges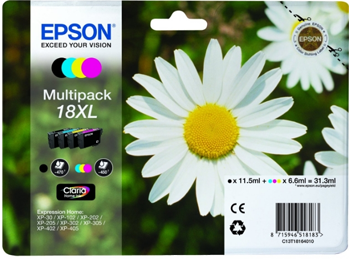 Buy Epson XP-405WH compatible ink cartridges from Internet-Ink. Our compatible offer top rated printing by which and are some of the top compatible inks on the online shop, why not see our compatible ink reviews on the product pages. All xp405WH compatible in comes with a 1 year guarantee and our 5 star customer support team is always available to assist you getting the best value for your cartridges. If you're looking for the cheapest printer cartridges for your Epson xp-405WH then why not have a look at the saver multipacks available they offer big savings and come with 2 free extra black ink cartridges.
Ink Compatible with the Epson XP-405WH Printer
The Epson XP-405WH daisy ink cartridges are also known as the Epson 18 inks they have the T1811 (black), T1812 (cyan), T1813 (magenta) and T1814 (yellow) in epson inks stock. If you're looking for the home xp 405WH expression multipack then check out the Epson T1816 pack, which offers a saving by buying the printer cartridges together. You can purchase all your ink directly from Internet-ink secure online shop at the cheapest prices online. Furthermore, when you return you'll save another 10% off our own brand XP-405WH compatible ink, as part of our ink loyalty club!
So when you need to buy a replacement for your Epson XP-405WH printer look no further than Internet-ink, when you're asking the question "where to buy Epson XP 405WH printer ink?" the printer cartridges will be compatible with your printer and are compatible with the brands such as Epson or Epsom as some people call it.
What we would advise is that if you have purchased a new printer or looking for a new set of epson inks for your Epson XP-405WH printer is to buy a compatible multipack to make sure all the ink cartridges work. If you need any help please do get in contact with our support team for anywhere, which, what or why questions you have on your Epson XP-405WH printer ink choices as we offer an all-round value service.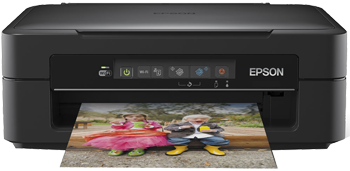 Cheap Epson XP-405WH Ink Cartridges at Internet-ink
The Epson XP-405WH printer is a piece of the ever famous XP printers arrangement, being an all in one printer the XP-405WH consolidates printing, duplicating and examining in one clean little bundle. The Epson XP-405WH is the minimized way of the printer, intended to fit into any home and not look strange. With Wi-Fi capacity the XP-405WH offers straightforward system network and permit simple printing from messages.
The XP-405WH printer is good value at just under £49.99 to £70. Part of the small compact printers from the Epson XP printer series range. The XP-405WH fits perfectly into smaller spaces and being an all in one printer that is quite some feat. The XP-405WH offers Wi-Fi printing, which is useful for the user on the move and is compatible with such devices as the Google Cloud Print and the Apple airPrint.
The Epson XP-405WH ink takes the 18 ink cartridges which are otherwise called the Epson Daisy Ink. Consolidating Epson Claria ink you get high quality pictures and printing yields with all types of printing documents and media.
The Epson XP-405WH uses the Daisy inks using the series T18 including a variety of low capacity and high capacity XL black and colour printing for as little as 1p a page! Producing clean and simple prints, based on the Epson models the XP series printers are all compatible with the T18 series. The printer has as like the others, Epson's Micro Piezo technology to offer some top printing on documents and graphics.
Internet-ink XP-405WH cartridges offer T1806 and T1816 multipacks which allow you to save more cash by buying in bulk which is great for high printing customer. Don't forget Internet-Ink offer some of the cheapest epsom XP-405WH ink on the market. Our customers continue to recommend and support Internet-ink due to our amazing cartridge quality and top quality service. So make sure you purchase your Epson XP-405WH cartridges online from Internet in today.
Epson Expression Home XP-405WH Review
The Epson Expression Home XP 405WH printer is ideal for printing on the go in your home, if you're in the market for a new printer. The Epson Xp-405WH offers a simple and crisp Epson design, actually not unlike other XP printers in the series, with Wi-Fi capability features and superb performance with a lot of printing add-ons, this is a printer for a multi-tasking individual or family home for both images and graphics.
By purchasing this printer, like other Epson ink cartridge printers the XP 405WH offer individual ink cartridge slots to place all the colours including black, cyan, magenta and yellow for your Epson printer. This xp 405WH printer can accept both genuine Epson and compatible ink cartridges which execute prints at top level with all types of documents.
Great Value Epson XP-405WH Ink Cartridges
The Epson XP-405WH is a well presented printer that uses the T18 ink cartridges. The Epson printer offers that all in one result combining printing with scanning and copying for a host of documents.Don't settle for the simple answer, this XP-405WH uses Wi-Fi technology for easy connectivity to an array of documents and mobile devices to enable you to print on the mobile.
The Epson XP-405WH offers a cheap ink cartridge solution whilst maintain quality at the same time, choosing original Epson ink or no-branded compatibles will not affect the way you print, your printer just the price of what you pay.
Ideal Printing for the Home Printer
With decent printing speeds of around 33ppm the printer offers a suitable home office solution, yet printing via colour may take a bit longer. On the whole though, you won't find a better value printer for combining networking and mobile printing in an all in one device.
The Epson Expression Home XP-405WH Printer is called 'home' printer for that very reason, simple and easy to use printing very good prints and offering great value to the home user. Upgraded from the previous versions of the Epson XP series. The XP405WH will look go in the home and won't let you done in terms of print quality, results and speeds. Definitely a keeper, the Epson XP-405WH offers simple printing and great inks at an affordable price.