Monthly Offers
Free Photo Paper with Ink Cartridge Orders Over £15
Are you printing lot of photos this summer? Well why not take advantage of our July newsletter offering a FREE Pro-Jet 260g 20 sheet photo pack with all ink cartridge orders over £15.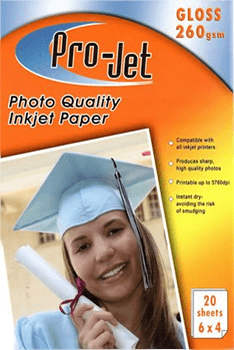 Simply add your ink cartridges at the checkout, as long as your order invoice contains ink cartridges over £15 after discounts, we will automatically send your photo paper out with your order! Simply that easy, you don't have to do anything!
If you need any help with choosing your printer ink or ordering online. Please just contact the customer support team during 8:30am - 5pm Monday to Friday they are always happy to help you out.
You can order online via the website 24/7!
-This offer applies to all inkjet cartridges on the website.
-This offer doesn't apply to toner or any other items other than inkjet cartridges.
-Your photo pack will be shipped with your order if it qualifies.
-This offer only applies to orders during July 2016.