Win a Chocolate Hamper
Order now to be entered in to our fantastic May prize draw!
Win a Chocolate Hamper with Internet-ink in our May competition. TWO chances to win!
Keep an eye on the special offer page for more competitions!

From 1st May until 31at May 2021, every order we receive will be placed into a prize draw for a chance to win a Chocolate Hamper worth £150 . Two lucky winners  will be getting 1 of these hampers each delivered direct courtesy of no12chocolatier .
Internet-ink will choose TWO random lucky customer to receive a hamper packed with delicious treats.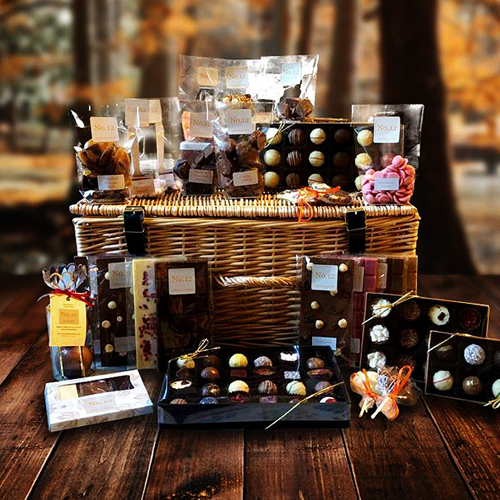 1 x Box of 6 Handmade Belgian Chocolate Truffles - Assorted Flavours 66g
1 x Box of 12 assorted Belgian Chocolate cups 132g
1 x Box of 18 No.12 Signature Collection Handmade Truffles 198g
1 x Box of 24 No.12 Chocolatier`s Selection of Handmade Truffles 264g
1 x Belgian Milk Chocolate Bar 90g
1 x Belgian White Chocolate & Freeze dried Raspberry Chocolate Bar 90g
1 x 55% Belgian Dark Chocolate Bar 90g
1 x Cappuccino Belgian Chocolate Bar 90g
1 x Ruby Belgian Chocolate Bar 90g
1 x Caramel Gold Belgian Chocolate Bar 90g
1 x Rainbow Crunch Belgian Milk Chocolate Bar 90g
1 x Salted Caramel Belgian Milk Chocolate Bar 90g
4 x Belgian Chocolate Lollies 40g each
1 x Pack of 2 Belgian Hot Chocolate Bombs 80g
2 x Belgian Milk Hot Chocolate Stirrers with Marshmallows 35g each
1 x Trio Taster pack with 1 Milk, 1 White & 1 Dark Chocolate Bars 120g
1 x Dark Chocolate Florentines with Dried Apricots Cranberries and Hazelnuts 180g
1 x Strawberry Flavour Chocolate Drops 100g
1 x Orange Flavour Chocolate Drops 100g
1 x Cinder Toffee hand dipped in Belgian Milk Chocolate 80g
1 x Death By Chocolate Fudge 100g
1 x Rocky Road Fudge 100g
1 x Candied Orange slices hand dipped in Belgian Dark Chocolate 150g
Allergens: Truffles Contain SOYA & MILK May also contain traces of HAZELNUTS, ALMONDS and other NUTS All items come with a full list of ingredients and allergen information.
Can't wait just visit no12chocolatier order from them today and treat yourself.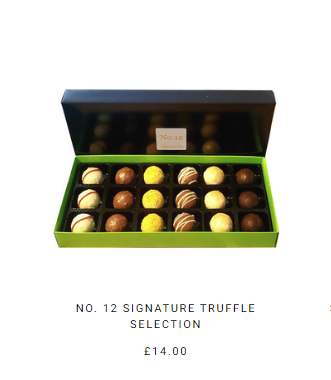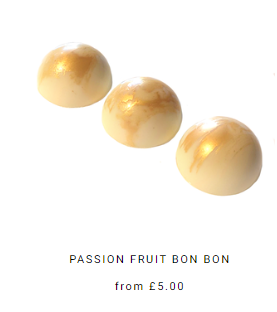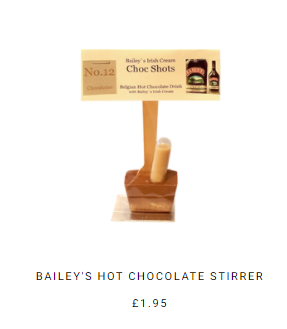 It's simple, place an order on Internet-ink.com between the 1st May and 31st May 2021 and you'll be automatically entered into this amazing prize draw. 
Or send us your full details including email & telephone by post to be entered.
2 customers will be drawn at random on 03/06/2021 to receive the prize (subject to availability).
This is a prize you definitely don't want to miss! Go to Internet-ink.com and order anything from our store to qualify for an entry.
Please note this item contains nuts. If you have a nut allergy an alternative hamper will be chosen or redraw will be made.













Terms and Conditions
By entering this prize draw you agree to the following terms and conditions: To enter the Prize Draw you need to place an order on www.internet-ink.com or post your full details to us requesting to be added to the draw by 11.59pm on 31st May 2021. A purchase is not necessary. One entry per person. The prize you will receive will be a Hamper (subject to availability). Entrants must be over the age of 18. The Prize Draw is open to all residents of the UK and the Republic of Ireland except employees of Internet-ink, their families, agencies or anyone connected with the Prize Draw and those under 18 years of age. By entering the Prize Draw you agree that your details including your email address/address may be used to keep you informed about internet-ink's promotions, products and news in the future. There is one prize available. The prize is non-negotiable, non-transferable and non-refundable. There is no cash alternative. Internet-ink reserves the right to change some contents of the prize. The winner will be the first entry drawn at random. Internet-ink's decision will be final. The winners will be notified via either phone call or email, and their name will be shown on the Internet-ink's Blog page and social media sites. The winners must claim the Prize within 7 days of notification that they are the winner. If the winners fail to claim the Prize within this period, Internet-ink reserves the right to award it to an alternative winner. Internet-ink reserves the right to: Cancel the Prize Draw, refuse to allow any individual to enter the competition, or amend the terms and conditions (entrants will be notified). All decisions made by Internet-ink are final.