Win a Hamper
Order now to be entered in to our April prize draw!
Win a Spring Hamper with Internet-ink in our April competition.
Keep an eye on the special offer page for more competitions!
From 1st April until 30th April 2021, every order we receive will be placed into a prize draw for a chance to win a Portobello Hamper worth £150 . One lucky winner  will be getting 1 of these hampers delivered direct.
Internet-ink will choose ONE random lucky customer to receive a hamper packed with delicious treats.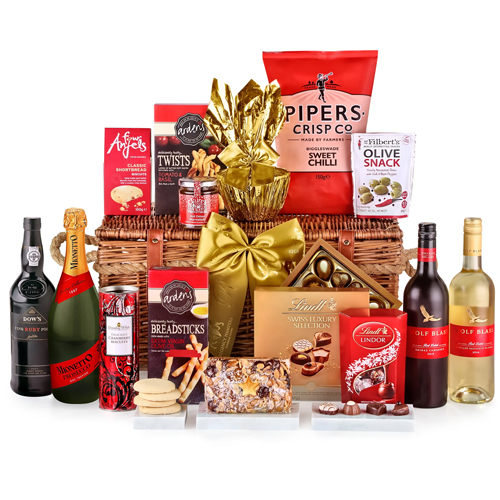 1 x Hand-Made Lidded Willow Picnic Basket with Rustic-Style Rope Handle (51 x 36 x 22cm), 1 x Mionetto, Orange Label Prosecco, 75cl, 1 x Wolf Blass, Red Label, Shiraz Cabernet Sauvignon, 75cl, 1 x Wolf Blass, Red Label, Chardonnay Semillon, 75cl, 1 x Claire's Handmade, Red Onion Marmalade, 200g, 1 x Filbert's, Pitted Marinated Olives with Chilli & Black Pepper, 65g, 1 x Arden's, Tomato & Basil Puff Pastry Twists, 100g, 1 x Arden's, Salted Breadsticks with Extra Virgin Olive Oil, 70g, 1 x Pipers Crisp Co, Biggleswade Sweet Chilli Crisps, 150g, 1 x Grandma Wild's, Delicious Cranberry Biscuits in Presentation Tin, 150g, 1 x Four Anjels, Cotswold Luxury Shortbread, 100g, 1 x The Cotswold Gourmet, 5" Fruit & Nut Loaf Cake with Marzipan Star & Dusting, 1 x Cotswold Gourmet, Lemon Sponge Steamed Pudding, 350g, 1 x Lindt, Swiss Luxury Chocolate Selection, 145g, 1 x Lindt, Lindor Milk Chocolate Truffles, 200g, 1 x Dow's, Fine Ruby Port, 75cl, 1 x Protective Cardboard Outer (640 x 400 x 300 mm)
It's simple, place an order on Internet-ink.com between the 1st April and 30th April 2021 and you'll be automatically entered into this amazing prize draw. 
Or send us your full details including email & telephone by post to be entered.
1 customer will be drawn at random on 03/4/21 to receive the (subject to availability).
This is a prize you definitely don't want to miss! Go to Internet-ink.com and order anything from our store to qualify for an entry.
Please note this item contains nuts. If you have a nut allergy an alternative hamper will be chosen.













Terms and Conditions
By entering this prize draw you agree to the following terms and conditions: To enter the Prize Draw you need to place an order on www.internet-ink.com or post your full details to us requesting to be added to the draw by 11.59pm on 30th April 2021. A purchase is not necessary. One entry per person. The prize you will receive will be a Hamper (subject to availability). Entrants must be over the age of 18. The Prize Draw is open to all residents of the UK and the Republic of Ireland except employees of Internet-ink, their families, agencies or anyone connected with the Prize Draw and those under 18 years of age. By entering the Prize Draw you agree that your details including your email address/address may be used to keep you informed about internet-ink's promotions, products and news in the future. There is one prize available. The prize is non-negotiable, non-transferable and non-refundable. There is no cash alternative. Internet-ink reserves the right to change some contents of the prize. The winner will be the first entry drawn at random. Internet-ink's decision will be final. The winners will be notified via either phone call or email, and their name will be shown on the Internet-ink's Blog page and social media sites. The winners must claim the Prize within 7 days of notification that they are the winner. If the winners fail to claim the Prize within this period, Internet-ink reserves the right to award it to an alternative winner. Internet-ink reserves the right to: Cancel the Prize Draw, refuse to allow any individual to enter the competition, or amend the terms and conditions (entrants will be notified). All decisions made by Internet-ink are final.