Tips for Choosing a Printer The Student Guide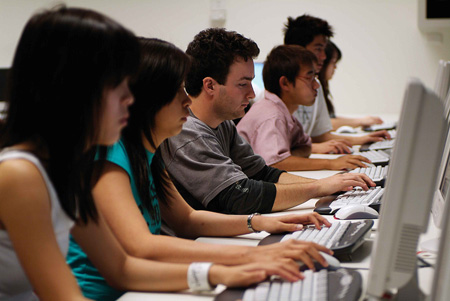 Printing assignments and coursework at college or university can be a real pain; waiting for shared printers to become available, the inconvenience of them being located too far away or the plain and simple fact that they cost too much money to use.
Buying your own printer then is a wise investment. But with so many printers out there, where do you start?
Which is the best and most suitable printer for you depends on where it will be used and how it will be used. For starters, ignore laser printers, although they are fast, the toner cartridges are often more expensive than the printer itself.
Inkjet printers are the way to go, they are relatively cheap to buy and most models come with an inbuilt scanner for copying important documents like work essay and revision notes.
One thing to look out for is the type of cartridge system the printer uses. Some models use one cartridge that contains all the coloured inks; this is the least cost-effective setup as you are forced to throw away the cartridge once one of the colours runs out, even if the others have not.
A better option is to look for inkjet printers that have an individual cartridge for each colour, often cyan, yellow, magenta and black. With individual ink cartridges you only have to replace the colours you've used, saving you money.
Epson Printers For Students
You'll want to look for printers with Wi-Fi connectivity; this means you can print without having to connect USB cables to your laptop or computer. Look for printers that also support mobile printing, such as Epson's iPrint feature which allows wireless printing from devices such as smartphones and tablets.
If you want specific examples, you can't go wrong with printers from the affordable Epson Stylus range, like the S22 and SX425W .
These compact and versatile Epson printers offer reliable and affordable home printing, with cheap ink cartridges available that still produce not only high quality documents but also photos.
If you want an excellent printer to last throughout your studies, you can't go wrong with the Epson XP range. The Epson XP printers are some of the most popular in the Epson range, combining affordable ink cartridges and great quality printing.
They have a range of all in one features including printing, scanning and copying as well as combining Wi-Fi and mobile printing for students on the move.
Epson Printer and Ink Costs
When purchasing an Epson XP printer you are looking around £30-80 and always look for offers at peak periods such as the start of terms or sale periods like Christmas and Easter.
The Epson XP printer series are able to take both original and compatible ink cartridges to save you more money. Compatible ink cartridges offer a high quality alternative to original cartridges for a fraction of the cost, but without any loss in quality.
Epson ink cartridges can be purchases for as little as £6.99 for some 4 cartridge value packs, expect to pay between £5-£30 and keep an eye out for saver packs that can come with some free black cartridges for those larger documents or drafts that you need to print out.
Canon Printers For Students
Another option is the slightly more pricey Canon PIXMA printer series, such as the MG5250 and MG6150 . These printers produce high quality colour prints, along with a scanner and Wi-Fi for wireless printing. The Canon PIXMA range of home printers and All-in-Ones are ideal for students.
Stylish and compact, they can easily fit into that crowded bedroom or on that messy desk. And with Wi-Fi connectivity you can wirelessly print your documents from anywhere in the home.
Using Canon's free app or Apple AirPrint, you can print directly from smartphones and tablets. With some models, you can even print from anywhere over the internet and not just the home, giving you the freedom to print whatever's and wherevers convenient for you.
What's more, the Canon PIXMA range offers unparalleled photo printing, producing photo-lab quality prints quickly. For example, the PIXMA MG5250 has an 11ppm print speed and the MG6150 has a 12.5ppm print speed.
Canon Printer and Ink Costs
With the Canon printers like the Epson range expect to pay around £40-£90 for your all in one or inkjet printer, remembering it's the investment that you're making as most printers can have a decent lifespan of up to 5 years.
As with all original ink cartridges, the prices are high. Original Canon ink cartridges, like most other branded inks, is roughly £1.70 per millilitre, meaning the cost of original Canon printer ink now costs more per millilitre than a bottle of the finest Champagne.

Compatible ink cartridges are less than half this price, in part because old packaging is reused so prices can be kept down. Most value packs can be purchase around the £10-£30, look out for value packs and combination saver cartridges for long term savings.
Having a reliable printer for your studies are going to save you time that could be better spent elsewhere. And it will save you money in the long run. You can even claim back some of your money by recycling your old cartridges for money once you've used them. Who said printing and printers had to be expensive?
What's more why not purchase your printer ink from offering 10% discount on all your future orders to help make that beer taste better down at the student union and those assignments look like they were professionally printed.