How To Pick A Wireless Printer
If everyone in your household or office has their own laptop, computer and even tablet and wishes to print, a wireless printer is for you. There are many things to consider when buying a new printer, whether it should be an inkjet or laser, an all in one or a single function printer. But there is one feature that you should focus on: wireless printing. Many new printers support wireless technology in some form or another and it is important to understand the different types of connectivity they provide. This guide sets to help explain wireless printing, what to look for and how to pick a new printer.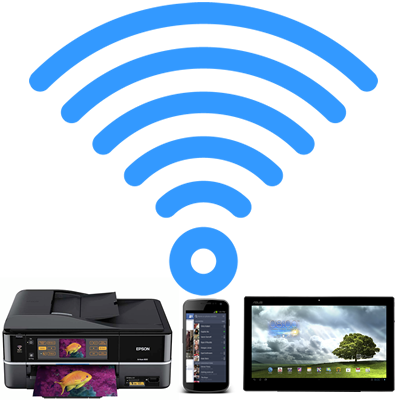 What does a wireless printer actually do?
Wireless printers can provide a selection of different forms of wireless printing. It's best to consider what you want your printer to do. Here's a selection of functions that wireless printers can achieve, it is important to decide what it is you want and to buy a printer accordingly:- Connect to a LAN (Local Area Network) via Wi-Fi so that all devices can print to the connected wireless printer.- Connect via Wi-Fi to the printer outside of the network so that you can print from anywhere in the world with an internet connection.- Allow for direct printing from smartphones and tablets.
Which printers have Wi-Fi?
Wi-Fi compatible printers are available in both laser and inkjet printers, just look for the Wi-Fi symbol on the box.
What do I need to wirelessly print?
Firstly you'll need a wireless router and Wi-Fi network wherever you want to print. Then you'll need a printer with Wi-Fi, Wi-Fi Direct or AirPrint
What are the different types of wireless connectivity?
Wi-Fi is the most common type of connection for wireless printing. It takes the place of traditional USB or Ethernet cables to connect your printer to a network. Providing the printer is in signal range of the network, it can be placed anywhere, removing the need for messy and dangerous cables and wires running everywhere. Computers and laptops can then connect to the network and send documents to print via Wi-Fi. This is particularly useful for the home and small offices that wish to have a device that fits into a work environment and provide an efficient service for multiple users.types of wireless connectivity?
Wi-Fi Direct provides all the same functions that Wi-fi does, but it also allows for direct printing from devices. This means that you don't have to connect via a network to the printer, rather, your Wi-Fi enabled device can send print jobs directly to the printer itself. This is useful for keeping documents secure as they are shared only by you and the printer and not over a network.
AirPrint allows Apple iOS users, iPhones and iPads to print from their devices to a wireless printer. This feature is a popular choice due to its seamless design and the fact you do not need to download any additional software or drivers. Simply check your printer supports AirPrint, open up the app on your Apple device and you are good to print.
What features to look for in a wireless printer?
Wi-Fi connectivity aside, you still want to pick a printer with a good print quality and print speed. You also want to pick a printer that allows a range of devices to connect to, such as smartphones, tablets, laptops and email. Some HP and Epson printers come with a unique email address so you can directly email them documents to print. Some wireless printers also come with compatibility with cloud services, which allows you to print from services like Google Cloud.
Posted by Wayne Hogan