6 Photo Printers in Time For Christmas

If you are thinking about investing in a photo printer, Christmas is a good time to get one. A good quality photo printer gives you the chance to print Christmas cards, calendars and festive decorations. But there are several different types and sizes of photo printers available: compact ones for small photos, standard ones for conventional documents and A4, and larger printers capable of printing large format prints up to A3 in size. This guide shows you 6 photo printers you can get this Christmas. (All prices are approximations at the time of writing)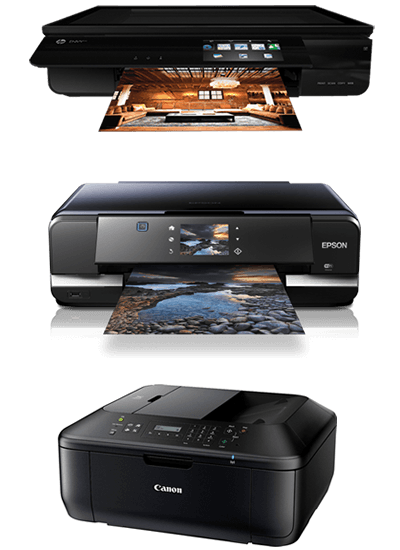 The HP Envy 129 is a great all round printer that's stylish as well as functional. Its sleek design fits effortlessly into the modern office, while its wi-fi means you can print from computer or tablet from any room. The HP Envy 120 has a good photo print quality, producing results with good colours and blacks. A user friendly interface makes it easy to use.
Ink Cartridges Used: HP 300 Original or Compatible
The Epson Expression Premium XP-950 can print excellent quality photos in A4 size. Using a six ink cartridge system, the XP-950 uses individual cyan, magenta, yellow, black, light cyan and light magenta ink cartridges to produce detailed and affordable prints. The individual cartridges mean you only need to replace the colours you have used, saving you money.
Ink Cartridges Used: Epson T2428 & T2438 Original or Compatible
The Canon Pixma MG3550 is a great value, entry level printer. It uses two cartridges, one black and one colour ink cartridge to produce cost effective prints. The MG3550 has wireless connectivity and is capable of printing with tablets and photocopiers. An inbuilt scanner and photocopier make the Canon MG35550 a great value inkjet printer.
Ink Cartridges Used: Canon PG-540 and CL-541 original or compatible
4. Canon Selphy CP910: £79

The Canon Selphy CP910 photo printer uses a printing process called dye sublimation to create long lasting and durable photo prints. The CP910 includes AirPrint and can print images up to sizes of 4 x 6 inches or smaller. What's more, the Canon Selphy CP910 has an optional battery pack for increased portability.
Ink Cartridges Used: Canon KP-36IP original ink
The HP Envy 4500 is a good all round printer that delivers high quality prints via an easy to use and intuitive operating system. This Wi-Fi printer produces rich photos for a modest price tag.
Ink Cartridges Used: HP 301 original or compatible
The Canon Pixma MG6650 is a durable printer which uses a 6 ink cartridge system to delivery great quality results to a high resolution. The MG6650 produces high resolution photos as well as scans, all for an affordable price.
Ink Cartridges Used: Canon PGI-550 and CLI-551 original or compatible