How to use Apple Air Pinters and the Best AirPrint Printers
This Apple Airprint guide offers you information on getting the best printer device for your need if you're looking for printers compatible with Airprint.
Since the increased and advancement in printer and wireless technology, the increase printers and manufacturers have got on board to allow such devices to be compatible like Epson Airprint, Canon Airprint, HP Airprint which all enable you to print from your Apple iPad, phone or compatible device.
What is Apple Airprint?
Apple Airprint is basically Apple software or technology that allow you to print on your device without the need for adding the need to install or download printer drivers to your Apple device.
Since the launch of Apple AirPrint, printing from your iPad or iPhone has become so much easier, allowing you to print directly from Apple programs such as Photos, Safari, Mail, and iPhoto. Because of this more and more manufacturers are getting on-board with AirPrint compatible printers which has improved functionality for many users.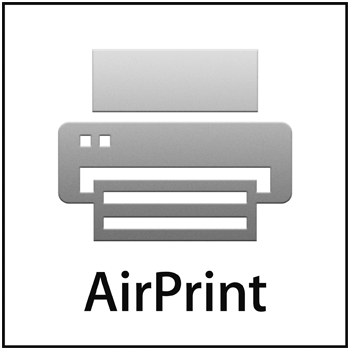 Although most require your iPhone and printer to be on the same network, some machines now bring their own email addresses allowing you to automatically print out images and documents that you email to them.
This means that you can print from anywhere in the world using some of the market's leading brands such as Brother, Canon, Dell, HP, Lexmark, Ricoh, and Samsung, which are all compatible with Apple's AirPrint.
How to Set up Your Printer for Airprint?
To use AirPrint on your device you basically need to have an iPad, iPhone or iPod touch. AirPrint-enabled printer is also needed. Most of AirPrint printers are now compatible with the major retailers such as Epson, Canon, HP, Samsung and more. Most modern printers or wireless printers are most likely to have AirPrint enabled. If you're unsure check the manual.
If you apple deice and printer are connected to Wi-Fi you should be ready to go, just use your apple device to scan for your printer and it will print.
How to Print From an iPad, iPhone or iPod Touch?
When you open a document in any of these programs, you can easily click the Share button, which will then allow access to the print options.
The simplicity of printing from your apple iPhone, iPad or iPod touch to a printer that uses ari print is simple. Here we can guide you with a few easy steps: -First check that your printer and device are both connected to the same Wi-FI connection and that your printer is supported by Airprint.
-Open the photo or app that your printing and double check that is allows printing.
-Tap to allow you to find the print option if it's allowed.
-Select print and choose the amount of prints you would like your device to print.
-Once the options have been selected, press in the top corner and your airprint device will work.
How to add a Printer to an iPad?
Follow the instructions above. An iPad runs on the same as the the other devices. If both your device and your printer are on a Wi-Fi and your printer runs the AirPrint software you should be able to print.
Do you have to have an air printer to print from an iPad?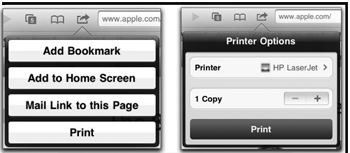 The short answer is yes, it has to be compatible to work. Otherwise there are apps available to install if your printer is wireless.
What is the Best Airprint Printer To Buy?
The same golden rules come to buying an Airprint printer as to buying any other printers.
-Check that your printer fits all your needs.
-Check the ink cartridges for the printer as that will be your main expense. Don't buy the printer because it's on sale or cheap in an offer, the printer may not be functional for your needs. Plus the ink you have to buy for the printer may cost more than your printer.
-Do your research, Internet-Ink are adding printers everyday, we are quite happy to advise you on the best airprinter to buy and will point our customers in the direction of the the AirPrint printers and compatible ink cartridges that will both get the best from your printer.
Here at Internet-ink our team have put the best printers that we think are Airprint compatible and you'll get the best for your money. This list is updated regulary and once we find any new Airprint printer we will add them to the list.
Why Airprint isn't Working?
Here are some simple checks to go through when you have some problems with Airprint on your device. General messages are "no AirPrint printers were found". Here's what to check and how to fix the problem:
- Double check both your printer and your Apple device (Mac, iPhone, iPad, or iPod touch) are on the same network.
- Make sure both your Apple device (Mac, iPhone, iPad, or iPod touch) has been updated to the latest version or the apps that you're using for printing.
- Check that your printer is compatible with AirPrint. If the printer isn't compatible the software will not work.
- Double check your wireless or network connection is working. See if you can get on the internet on another device or printer.
- Check if your printer is on and your router is on and trouble free. Try printing from another device or computer.
- Finally, restart your printer, router and apple device. A reset will allow any configuration changes to update on your devices.
If you're looking for a printer with such features as being airprint compatible printers, you can keep checking both here and the Apple website for updates on airprint printers.
Golden rule when searching for a new printer is that if it only takes 2 cartridges i.e. a black and a colour, try and find one with individual slots so 4-6 cartridges depending on your printer. If you need any help purchasing your ink cartridges just chat to Internet-ink! We don't recommend specific printers the entire choice of what your printer will be is up to you. We supply both genuine cartridges and compatible ink cartridges again the choice of what you use, is entirely yours we find some of the printers with the cheapest ink cartridges and do some price comparisons. See previous articles on the blog or do your research before purchasing your printer. 
If you choose the right one it will last you a while and you will save money on your ink cartridges and printing in the long run. Don't forget you can save 10% on your compatible ink purchases by shopping with Internet-ink! 
Our loyal customers get the lowest prices for printing ink, making us one of the best online! Have you found a printer that you want to recommend let us know!
Current AirPrint Printers
AirPrint printers Brother
• Brother DCP-4225N-B • Brother DCP-4225N-W • Brother DCP-7180DN • Brother DCP-8110DN • Brother DCP-8150DN • Brother DCP-8155DN • Brother DCP-8250DN • Brother DCP-9015CDW • Brother DCP-9015CDWE • Brother DCP-9017CDW • Brother DCP-9020CDN • Brother DCP-9020CDW • Brother DCP-9022CDW • Brother DCP-J105 • Brother DCP-J132N • Brother DCP-J132W • Brother DCP-J152N • Brother DCP-J152W • Brother DCP-J172W • Brother DCP-J4110DW • Brother DCP-J4120DW • Brother DCP-J4210N • Brother DCP-J4215N-B • Brother DCP-J4215N-W • Brother DCP-J4220N-B • Brother DCP-J4220N-W • Brother DCP-J525N • Brother DCP-J525W • Brother DCP-J540N • Brother DCP-J552DW • Brother DCP-J552N • Brother DCP-J552N -ECO • Brother DCP-J562DW • Brother DCP-J562N • Brother DCP-J725DW • Brother DCP-J725N • Brother DCP-J740N • Brother DCP-J752DW • Brother DCP-J752N • Brother DCP-J762N • Brother DCP-J925DW • Brother DCP-J925N • Brother DCP-J940N-B • Brother DCP-J940N-ECO • Brother DCP-J940N-W • Brother DCP-J952N -B • Brother DCP-J952N -W • Brother DCP-J952N-ECO-B • Brother DCP-J952N-ECO-W • Brother DCP-J962N • Brother DCP-J963N-B • Brother DCP-J963N-W • Brother DCP-L2520DW • Brother DCP-L2520DWR • Brother DCP-L2540DN • Brother DCP-L2540DNR • Brother DCP-L2540DW • Brother DCP-L2541DW • Brother DCP-L2560DW • Brother DCP-L2560DWR • Brother DCP-L5500D • Brother DCP-L5500DN • Brother DCP-L5502DN • Brother DCP-L5600DN • Brother DCP-L5602DN • Brother DCP-L5650DN • Brother DCP-L5652DN • Brother DCP-L6600DW • Brother DCP-L8400CDN • Brother DCP-L8410CDW • Brother DCP-L8450CDW • Brother FAX-L2700DN • Brother HL-2560DN • Brother HL-3140CW • Brother HL-3142CW • Brother HL-3150CDN • Brother HL-3150CDW • Brother HL-3152CDW • Brother HL-3170CDW • Brother HL-3172CDW • Brother HL-3180CDW • Brother HL-5450DN • Brother HL-5470DW • Brother HL-5580D • Brother HL-5585D • Brother HL-5590DN • Brother HL-5595DN • Brother HL-6180DW • Brother HL-L2305W • Brother HL-L2340DW • Brother HL-L2340DWR • Brother HL-L2360DN • Brother HL-L2360DNR • Brother HL-L2360DW • Brother HL-L2361DN • Brother HL-L2365DW • Brother HL-L2365DWR • Brother HL-L2366DW • Brother HL-L2380DW • Brother HL-L5000D • Brother HL-L5100DN • Brother HL-L5100DNT • Brother HL-L5102DW • Brother HL-L5200DW • Brother HL-L5200DWT • Brother HL-L5202DW • Brother HL-L6200DW • Brother HL-L6200DWT • Brother HL-L6202DW • Brother HL-L6250DN • Brother HL-L6250DW • Brother HL-L6300DW • Brother HL-L6300DWT • Brother HL-L6400DW • Brother HL-L6400DWT • Brother HL-L6402DW • Brother HL-L8250CDN • Brother HL-L8260CDN • Brother HL-L8260CDW • Brother HL-L8350CDW • Brother HL-L8350CDWT • Brother HL-L8360CDW • Brother HL-L8360CDWT • Brother HL-L9200CDW • Brother HL-L9200CDWT • Brother HL-L9300CDW • Brother HL-L9300CDWT • Brother HL-L9310CDW • Brother MFC-7880DN • Brother MFC-8510DN • Brother MFC-8515DN • Brother MFC-8520DN • Brother MFC-8530DN • Brother MFC-8535DN • Brother MFC-8540DN • Brother MFC-8710DN • Brother MFC-8810DW • Brother MFC-8910DW • Brother MFC-8950DW • Brother MFC-9130CW • Brother MFC-9140CDN • Brother MFC-9142CDN • Brother MFC-9330CDW • Brother MFC-9332CDW • Brother MFC-9335CDW • Brother MFC-9340CDW • Brother MFC-9342CDW • Brother MFC-J200 • Brother MFC-J2310 • Brother MFC-J2320 • Brother MFC-J2330DW • Brother MFC-J2510 • Brother MFC-J2720 • Brother MFC-J2730DW • Brother MFC-J280W • Brother MFC-J285DW • Brother MFC-J3520 • Brother MFC-J3530DW • Brother MFC-J3720 • Brother MFC-J3930DW • Brother MFC-J425W • Brother MFC-J430W • Brother MFC-J4310DW • Brother MFC-J4320DW • Brother MFC-J432W • Brother MFC-J435W • Brother MFC-J4410DW • Brother MFC-J4420DW • Brother MFC-J450DW • Brother MFC-J4510DW • Brother MFC-J4510N • Brother MFC-J460DW • Brother MFC-J4610DW • Brother MFC-J4620DW • Brother MFC-J4625DW • Brother MFC-J470DW • Brother MFC-J4710DW • Brother MFC-J4720N • Brother MFC-J4725N • Brother MFC-J475DW • Brother MFC-J480DW • Brother MFC-J4810DN • Brother MFC-J485DW • Brother MFC-J4910CDW • Brother MFC-J5320DW • Brother MFC-J5330DW • Brother MFC-J5335DW • Brother MFC-J5520DW • Brother MFC-J5620CDW • Brother MFC-J5620DW • Brother MFC-J5625DW • Brother MFC-J5720CDW • Brother MFC-J5720DW • Brother MFC-J5730DW • Brother MFC-J5820DN • Brother MFC-J5830DW • Brother MFC-J5910DW • Brother MFC-J5920DW • Brother MFC-J5930DW • Brother MFC-J625DW • Brother MFC-J650DW • Brother MFC-J6510DW • Brother MFC-J6520DW • Brother MFC-J6530DW • Brother MFC-J6535DW • Brother MFC-J6570CDW • Brother MFC-J6580CDW • Brother MFC-J6710CDW • Brother MFC-J6710DW • Brother MFC-J6720DW • Brother MFC-J6730DW • Brother MFC-J6770CDW • Brother MFC-J680DW • Brother MFC-J6910CDW • Brother MFC-J6910DW • Brother MFC-J6920DW • Brother MFC-J6930DW • Brother MFC-J6935DW • Brother MFC-J6970CDW • Brother MFC-J6975CDW • Brother MFC-J6980CDW • Brother MFC-J6995CDW • Brother MFC-J810DN • Brother MFC-J810DWN • Brother MFC-J820DN • Brother MFC-J820DWN • Brother MFC-J825DW • Brother MFC-J825N • Brother MFC-J835DW • Brother MFC-J840N • Brother MFC-J860DN • Brother MFC-J860DWN • Brother MFC-J870DW • Brother MFC-J870N • Brother MFC-J875DW • Brother MFC-J880DW • Brother MFC-J880N • Brother MFC-J885DW • Brother MFC-J890DN • Brother MFC-J890DWN • Brother MFC-J955DN • Brother MFC-J955DWN • Brother MFC-J960DN-B • Brother MFC-J960DN-W • Brother MFC-J960DWN-B • Brother MFC-J960DWN-W • Brother MFC-J980DN -B • Brother MFC-J980DN -W • Brother MFC-J980DWN -B • Brother MFC-J980DWN -W • Brother MFC-L2680W • Brother MFC-L2700DN • Brother MFC-L2700DW • Brother MFC-L2700DWR • Brother MFC-L2701DW • Brother MFC-L2703DW • Brother MFC-L2705DW • Brother MFC-L2720DN • Brother MFC-L2720DW • Brother MFC-L2720DWR • Brother MFC-L2740DW • Brother MFC-L2740DWR • Brother MFC-L5700DN • Brother MFC-L5700DW • Brother MFC-L5702DW • Brother MFC-L5750DW • Brother MFC-L5755DW • Brother MFC-L5800DW • Brother MFC-L5802DW • Brother MFC-L5850DW • Brother MFC-L5900DW • Brother MFC-L5902DW • Brother MFC-L6700DW • Brother MFC-L6702DW • Brother MFC-L6750DW • Brother MFC-L6800DW • Brother MFC-L6900DW • Brother MFC-L6902DW • Brother MFC-L8600CDW • Brother MFC-L8610CDW • Brother MFC-L8650CDW • Brother MFC-L8690CDW • Brother MFC-L8850CDW • Brother MFC-L8900CDW • Brother MFC-L9550CDW • Brother MFC-L9570CDW • Brother PJ-773 • Brother PT-P750W • Brother QL-710W • Brother QL-720NW • Brother RJ-3050 • Brother RJ-3150 • Brother RJ-4040 • Brother TD-2120N • Brother TD-2130N • Brother TD-2130NHC • Brother TD-2130NSA
Canon AirPrint Printers
• Canon CP1200 • Canon CP910 • Canon E480 • Canon E484 • Canon E488 • Canon E489 • Canon G4000 • Canon G4100 • Canon G4102 • Canon G4200 • Canon G4400 • Canon G4500 • Canon G4600 • Canon G4800 • Canon G4900 • Canon iB4010 • Canon iB4020 • Canon iB4030 • Canon iB4040 • Canon iB4050 • Canon iB4060 • Canon iB4070 • Canon iB4080 • Canon iB4090 • Canon iB4110 • Canon iB4120 • Canon iB4130 • Canon iB4140 • Canon iB4150 • Canon iB4170 • Canon iB4180 • Canon iB4190 • Canon iP110 • Canon IP7210 • Canon IP7220 • Canon IP7230 • Canon IP7240 • Canon IP7250 • Canon IP7260 • Canon IP7270 • Canon IP7280 • Canon iP8710 • Canon iP8720 • Canon iP8730 • Canon iP8740 • Canon iP8750 • Canon iP8760 • Canon iP8770 • Canon iP8780 • Canon iR 1435 • Canon iR 1435i • Canon iR 1435iF • Canon iR 1435P • Canon iR 2004N • Canon iR 2204AD • Canon iR 2204F • Canon iR 2204N • Canon iR 2204TN • Canon iR C1225 • Canon iR C1225iF • Canon iR C1325 • Canon iR C1325iF • Canon iR C1335iF • Canon iR-ADV 4525 • Canon iR-ADV 4525F • Canon iR-ADV 4525i • Canon iR-ADV 4535 • Canon iR-ADV 4535F • Canon iR-ADV 4535i • Canon iR-ADV 4545 • Canon iR-ADV 4545F • Canon iR-ADV 4545i • Canon iR-ADV 4551 • Canon iR-ADV 4551i • Canon iR-ADV 6555 • Canon iR-ADV 6555i • Canon iR-ADV 6560 • Canon iR-ADV 6565 • Canon iR-ADV 6565i • Canon iR-ADV 6575 • Canon iR-ADV 6575i • Canon iR-ADV 8505 • Canon iR-ADV 8505B • Canon iR-ADV 8505i • Canon iR-ADV 8585 • Canon iR-ADV 8585i • Canon iR-ADV 8595 • Canon iR-ADV 8595i • Canon iR-ADV C250 • Canon iR-ADV C250i • Canon iR-ADV C250iF • Canon iR-ADV C255 • Canon iR-ADV C255i • Canon iR-ADV C255iF • Canon iR-ADV C3320 • Canon iR-ADV C3320F • Canon iR-ADV C3320i • Canon iR-ADV C3320KG • Canon iR-ADV C3320L • Canon iR-ADV C3325 • Canon iR-ADV C3325i • Canon iR-ADV C3325KG • Canon iR-ADV C3330 • Canon iR-ADV C3330F • Canon iR-ADV C3330i • Canon iR-ADV C3330KG • Canon iR-ADV C350 • Canon iR-ADV C350F • Canon iR-ADV C350i • Canon iR-ADV C350iF • Canon iR-ADV C350P • Canon iR-ADV C351iF • Canon iR-ADV C3520 • Canon iR-ADV C3520F • Canon iR-ADV C3520i • Canon iR-ADV C3525 • Canon iR-ADV C3525i • Canon iR-ADV C3530 • Canon iR-ADV C3530F • Canon iR-ADV C3530i • Canon iR-ADV C355 • Canon iR-ADV C355F • Canon iR-ADV C355i • Canon iR-ADV C355iF • Canon iR-ADV C355iFC • Canon iR-ADV C355P • Canon iR-ADV C5235 • Canon iR-ADV C5235A • Canon iR-ADV C5235F • Canon iR-ADV C5235i • Canon iR-ADV C5240 • Canon iR-ADV C5240A • Canon iR-ADV C5240F • Canon iR-ADV C5240i • Canon iR-ADV C5250 • Canon iR-ADV C5250F • Canon iR-ADV C5250i • Canon iR-ADV C5255 • Canon iR-ADV C5255F • Canon iR-ADV C5255i • Canon iR-ADV C5535 • Canon iR-ADV C5535F • Canon iR-ADV C5535i • Canon iR-ADV C5540 • Canon iR-ADV C5540F • Canon iR-ADV C5540i • Canon iR-ADV C5550 • Canon iR-ADV C5550F • Canon iR-ADV C5550i • Canon iR-ADV C5560 • Canon iR-ADV C5560F • Canon iR-ADV C5560i • Canon iR-ADV C5935KB • Canon iR-ADV C5940KB • Canon iR-ADV C5950KB • Canon iR-ADV C5955KB • Canon iR-ADV C7565 • Canon iR-ADV C7565i • Canon iR-ADV C7570 • Canon iR-ADV C7570i • Canon iR-ADV C7580 • Canon iR-ADV C7580i • Canon iR-ADV400 • Canon iR-ADV400i • Canon iR-ADV400iF • Canon iR-ADV500 • Canon iR-ADV500i • Canon iR-ADV500iF • Canon iX6810 • Canon iX6820 • Canon iX6830 • Canon iX6840 • Canon iX6850 • Canon iX6860 • Canon iX6870 • Canon iX6880 • Canon LBP251 • Canon LBP251dw • Canon LBP252 • Canon LBP252dw • Canon LBP253dw • Canon LBP253x • Canon LBP310x • Canon LBP311x • Canon LBP312dn • Canon LBP312i • Canon LBP312x • Canon LBP351dn • Canon LBP351i • Canon LBP351x • Canon LBP352dn • Canon LBP352i • Canon LBP352x • Canon LBP611C • Canon LBP611Cn • Canon LBP612C • Canon LBP612Cdw • Canon LBP613Cdw • Canon LBP651C • Canon LBP652C • Canon LBP653Cdw • Canon LBP654C • Canon LBP654Cdw • Canon LBP654Cx • Canon LBP710Cx • Canon LBP712Cdn • Canon LBP712Ci • Canon LBP712Cx • Canon MB2010 • Canon MB2020 • Canon MB2030 • Canon MB2040 • Canon MB2050 • Canon MB2060 • Canon MB2110 • Canon MB2120 • Canon MB2130 • Canon MB2140 • Canon MB2150 • Canon MB2160 • Canon MB2320 • Canon MB2330 • Canon MB2340 • Canon MB2350 • Canon MB2360 • Canon MB2390 • Canon MB2710 • Canon MB2720 • Canon MB2730 • Canon MB2740 • Canon MB2750 • Canon MB2760 • Canon MB5020 • Canon MB5030 • Canon MB5040 • Canon MB5050 • Canon MB5060 • Canon MB5070 • Canon MB5080 • Canon MB5090 • Canon MB5110 • Canon MB5120 • Canon MB5130 • Canon MB5140 • Canon MB5150 • Canon MB5160 • Canon MB5170 • Canon MB5180 • Canon MB5190 • Canon MB5310 • Canon MB5320 • Canon MB5330 • Canon MB5340 • Canon MB5350 • Canon MB5360 • Canon MB5370 • Canon MB5390 • Canon MB5410 • Canon MB5420 • Canon MB5430 • Canon MB5440 • Canon MB5450 • Canon MB5460 • Canon MB5470 • Canon MB5480 • Canon MB5490 • Canon MF212w • Canon MF216n • Canon MF217w • Canon MF222dw • Canon MF224dw • Canon MF226dn • Canon MF227dw • Canon MF229dw • Canon MF231 • Canon MF232w • Canon MF233n • Canon MF235 • Canon MF236n • Canon MF237w • Canon MF241d • Canon MF242dw • Canon MF243d • Canon MF244dw • Canon MF245dw • Canon MF246dn • Canon MF247dw • Canon MF249dw • Canon MF6140dn • Canon MF6150dw • Canon MF6160dw • Canon MF6180dw • Canon MF621Cn • Canon MF623Cn • Canon MF624Cw • Canon MF626Cn • Canon MF628Cw • Canon MF631Cn • Canon MF632Cdw • Canon MF633Cdw • Canon MF634Cdw • Canon MF635Cx • Canon MF6880dw • Canon MF722Cdw • Canon MF724Cdw • Canon MF725Cdn • Canon MF726Cdw • Canon MF727Cdw • Canon MF728Cdw • Canon MF729Cdw • Canon MF729Cx • Canon MF731Cdw • Canon MF732Cdw • Canon MF733Cdw • Canon MF734Cdw • Canon MF735Cdw • Canon MF735Cx • Canon MF810Cdn • Canon MF820Cdn • Canon MF8210Cn • Canon MF8230Cn • Canon MF8240Cw • Canon MF8250Cn • Canon MF8280Cw • Canon MF8530Cdn • Canon MF8540Cdn • Canon MF8550Cdn • Canon MF8570Cdw • Canon MF8580Cdw • Canon MG3110 • Canon MG3120 • Canon MG3130 • Canon MG3140 • Canon MG3150 • Canon MG3170 • Canon MG3180 • Canon MG3210 • Canon MG3220 • Canon MG3230 • Canon MG3240 • Canon MG3250 • Canon MG3255 • Canon MG3260 • Canon MG3270 • Canon MG3510 • Canon MG3520 • Canon MG3530 • Canon MG3540 • Canon MG3550 • Canon MG3560 • Canon MG3570 • Canon MG3580 • Canon MG3610 • Canon MG3620 • Canon MG3630 • Canon MG3640 • Canon MG3650 • Canon MG3660 • Canon MG3670 • Canon MG3680 • Canon MG4110 • Canon MG4120 • Canon MG4130 • Canon MG4140 • Canon MG4150 • Canon MG4170 • Canon MG4180 • Canon MG4210 • Canon MG4220 • Canon MG4230 • Canon MG4240 • Canon MG4250 • Canon MG4260 • Canon MG4270 • Canon MG4280 • Canon MG5310 • Canon MG5320 • Canon MG5330 • Canon MG5340 • Canon MG5350 • Canon MG5370 • Canon MG5380 • Canon MG5410 • Canon MG5420 • Canon MG5430 • Canon MG5440 • Canon MG5450 • Canon MG5450S • Canon MG5460 • Canon MG5470 • Canon MG5480 • Canon MG5510 • Canon MG5520 • Canon MG5530 • Canon MG5540 • Canon MG5550 • Canon MG5560 • Canon MG5570 • Canon MG5580 • Canon MG5610 • Canon MG5620 • Canon MG5630 • Canon MG5640 • Canon MG5650 • Canon MG5660 • Canon MG5670 • Canon MG5680 • Canon MG5710 • Canon MG5720 • Canon MG5721 • Canon MG5722 • Canon MG5730 • Canon MG5740 • Canon MG5750 • Canon MG5751 • Canon MG5752 • Canon MG5753 • Canon MG5760 • Canon MG5765 • Canon MG5766 • Canon MG5770 • Canon MG5780 • Canon MG5790 • Canon MG5795 • Canon MG6210 • Canon MG6220 • Canon MG6230 • Canon MG6240 • Canon MG6250 • Canon MG6270 • Canon MG6280 • Canon MG6310 • Canon MG6320 • Canon MG6330 • Canon MG6340 • Canon MG6350 • Canon MG6360 • Canon MG6370 • Canon MG6380 • Canon MG6400 • Canon MG6410 • Canon MG6420 • Canon MG6440 • Canon MG6450 • Canon MG6460 • Canon MG6470 • Canon MG6530 • Canon MG6610 • Canon MG6620 • Canon MG6640 • Canon MG6650 • Canon MG6660 • Canon MG6670 • Canon MG6680 • Canon MG6730 • Canon MG6810 • Canon MG6820 • Canon MG6821 • Canon MG6822 • Canon MG6840 • Canon MG6850 • Canon MG6851 • Canon MG6852 • Canon MG6853 • Canon MG6860 • Canon MG6865 • Canon MG6866 • Canon MG6870 • Canon MG6880 • Canon MG6890 • Canon MG6930 • Canon MG7110 • Canon MG7120 • Canon MG7130 • Canon MG7140 • Canon MG7150 • Canon MG7160 • Canon MG7170 • Canon MG7180 • Canon MG7510 • Canon MG7520 • Canon MG7530 • Canon MG7540 • Canon MG7550 • Canon MG7560 • Canon MG7570 • Canon MG7580 • Canon MG7710 • Canon MG7720 • Canon MG7730 • Canon MG7730F • Canon MG7740 • Canon MG7750 • Canon MG7751 • Canon MG7752 • Canon MG7753 • Canon MG7770 • Canon MG7780 • Canon MG7790 • Canon MG8220 • Canon MG8230 • Canon MG8240 • Canon MG8250 • Canon MG8270 • Canon MG8280 • Canon MX431 • Canon MX432 • Canon MX434 • Canon MX435 • Canon MX436 • Canon MX437 • Canon MX438 • Canon MX451 • Canon MX452 • Canon MX454 • Canon MX455 • Canon MX456 • Canon MX457 • Canon MX458 • Canon MX471 • Canon MX472 • Canon MX474 • Canon MX475 • Canon MX476 • Canon MX477 • Canon MX478 • Canon MX491 • Canon MX492 • Canon MX494 • Canon MX495 • Canon MX496 • Canon MX497 • Canon MX498 • Canon MX499 • Canon MX511 • Canon MX512 • Canon MX513 • Canon MX514 • Canon MX515 • Canon MX516 • Canon MX517 • Canon MX518 • Canon MX521 • Canon MX522 • Canon MX523 • Canon MX524 • Canon MX525 • Canon MX526 • Canon MX527 • Canon MX528 • Canon MX531 • Canon MX532 • Canon MX534 • Canon MX535 • Canon MX536 • Canon MX537 • Canon MX538 • Canon MX711 • Canon MX712 • Canon MX714 • Canon MX715 • Canon MX721 • Canon MX722 • Canon MX726 • Canon MX727 • Canon MX728 • Canon MX892 • Canon MX893 • Canon MX894 • Canon MX895 • Canon MX897 • Canon MX898 • Canon MX922 • Canon MX923 • Canon MX924 • Canon MX925 • Canon MX926 • Canon MX927 • Canon MX928 • Canon PRO-10 • Canon PRO-100 • Canon TS5010 • Canon TS5020 • Canon TS5030 • Canon TS5040 • Canon TS5050 • Canon TS5051 • Canon TS5053 • Canon TS5055 • Canon TS5060 • Canon TS5070 • Canon TS5080 • Canon TS5090 • Canon TS6010 • Canon TS6020 • Canon TS6030 • Canon TS6040 • Canon TS6050 • Canon TS6051 • Canon TS6052 • Canon TS6060 • Canon TS6070 • Canon TS6080 • Canon TS8010 • Canon TS8020 • Canon TS8030 • Canon TS8040 • Canon TS8050 • Canon TS8051 • Canon TS8052 • Canon TS8053 • Canon TS8060 • Canon TS8070 • Canon TS8080 • Canon TS8090 • Canon TS9010 • Canon TS9020 • Canon TS9030 • Canon TS9040 • Canon TS9050 • Canon TS9055 • Canon TS9060 • Canon TS9080
Dell AirPrint Printers
• Dell B1163w • Dell B1165nfw • Dell B1260dn • Dell B1265dfw • Dell B1265dnf • Dell B2360 Mono Laser Printer • Dell B2375dfw • Dell B2375dnf • Dell B3460 Mono Laser Printer • Dell B3465 Multifunction Laser Printer • Dell B5460 Mono Laser Printer • Dell B5465 Multifunction Laser Printer • Dell C2660dn Color Laser Printer • Dell C2665dnf Color Laser Multifunction Printer • Dell C3760n/dn Color Laser Printer • Dell C3765dnf Multifunction Color Laser • Dell Cloud Multifunction Printer | H815dw • Dell Color Cloud Multifunction Printer H625cdw • Dell Color Cloud Multifunction Printer H825cdw • Dell Color Smart Multifunction Printer - S3845cdn • Dell Color Smart Multifunction Printer S2825cdn • Dell Color Smart Printer - S3840cdn • Dell E310dw • Dell E514dw • Dell E515dn • Dell E515dw • Dell E525w • Dell S2830dn • Dell S5830dn • Dell S5840cdn • Dell Smart Multifunction Printer | S2815dn • Dell Smart Printer | S2810dn
Epson AirPrint Printers
• Epson Artisan 730 • Epson Artisan 837 • Epson EP-10VA • Epson EP-306 • Epson EP-30VA • Epson EP-706A • Epson EP-707A • Epson EP-708A • Epson EP-709A • Epson EP-775A • Epson EP-775AW • Epson EP-776A • Epson EP-777A • Epson EP-804A • Epson EP-804AR • Epson EP-804AW • Epson EP-805A • Epson EP-805AR • Epson EP-805AW • Epson EP-806AB • Epson EP-806AR • Epson EP-806AW • Epson EP-807A • Epson EP-808AB • Epson EP-808AR • Epson EP-808AW • Epson EP-879AB • Epson EP-879AR • Epson EP-879AW • Epson EP-904A • Epson EP-904F • Epson EP-905A • Epson EP-905F • Epson EP-906F • Epson EP-907F • Epson EP-976A3 • Epson EP-977A3 • Epson EP-978A3 • Epson EP-979A3 • Epson EP-M570T • Epson ET-2550 • Epson ET-3600 • Epson ET-4500 • Epson ET-4550 • Epson EW-M660FT • Epson L455 • Epson L456 • Epson L475 • Epson L485 • Epson L486 • Epson L565 • Epson L566 • Epson L575 • Epson L606 • Epson L655 • Epson L656 • Epson ME OFFICE 940FW • Epson ME-401 • Epson PF-70 • Epson PF-71 • Epson PF-81 • Epson PM-400 • Epson PM-401 • Epson PX-1600F • Epson PX-1700F • Epson PX-435A • Epson PX-436A • Epson PX-437A • Epson PX-504A • Epson PX-535F • Epson PX-605F • Epson PX-675F • Epson PX-B700 • Epson PX-B750F • Epson PX-M350F • Epson PX-M5040F • Epson PX-M5041F • Epson PX-M650A • Epson PX-M650F • Epson PX-M7050B • Epson PX-M7050F • Epson PX-M7050FP • Epson PX-M7050FX • Epson PX-M740F • Epson PX-M741F • Epson PX-M840F • Epson PX-M840FX • Epson PX-S05B • Epson PX-S05W • Epson PX-S350 • Epson PX-S5040 • Epson PX-S7050 • Epson PX-S7050B • Epson PX-S7050PS • Epson PX-S740 • Epson PX-S840 • Epson PX-S840X • Epson Stylus NX430 • Epson Stylus NX530 • Epson Stylus NX635 • Epson Stylus Office BX535WD • Epson Stylus Office BX630FW • Epson Stylus Office BX635FWD • Epson Stylus Office BX935FWD • Epson Stylus Photo PX730WD • Epson Stylus Photo PX830FWD • Epson Stylus Photo TX730WD • Epson Stylus SX440W • Epson Stylus SX445W • Epson Stylus SX535WD • Epson Stylus TX435W • Epson SureColor P600 • Epson SureColor P607 • Epson SureColor P608 • Epson SureColor P800 • Epson SureColor PX3V • Epson SureColor PX5V2 • Epson WF-2530 • Epson WF-2531 • Epson WF-2532 • Epson WF-2538 • Epson WF-2540 • Epson WF-2541 • Epson WF-2548 • Epson WF-2651 • Epson WF-2660 • Epson WF-2661 • Epson WF-2750 • Epson WF-2760 • Epson WF-3520 • Epson WF-3521 • Epson WF-3530 • Epson WF-3531 • Epson WF-3540 • Epson WF-3541 • Epson WF-3620 • Epson WF-3621 • Epson WF-3640 • Epson WF-3641 • Epson WF-4630 • Epson WF-4640 • Epson WF-5110 • Epson WF-5111 • Epson WF-5113 • Epson WF-5190 • Epson WF-5191 • Epson WF-5620 • Epson WF-5621 • Epson WF-5623 • Epson WF-5690 • Epson WF-7110 • Epson WF-7111 • Epson WF-7510 • Epson WF-7511 • Epson WF-7515 • Epson WF-7520 • Epson WF-7521 • Epson WF-7525 • Epson WF-7610 • Epson WF-7611 • Epson WF-7620 • Epson WF-7621 • Epson WF-8010 • Epson WF-8090 • Epson WF-8093 • Epson WF-8510 • Epson WF-8590 • Epson WF-8591 • Epson WF-8593 • Epson WF-M5190 • Epson WF-M5191 • Epson WF-M5690 • Epson WF-R4640 • Epson WF-R5190 • Epson WF-R5690 • Epson WF-R5691 • Epson WF-R8590 • Epson WF-R8591 • Epson WF-R8593 • Epson WorkForce 100 • Epson WorkForce 2630 • Epson WorkForce 2631 • Epson WorkForce 545 • Epson WorkForce 6090 • Epson WorkForce 6091 • Epson WorkForce 6093 • Epson WorkForce 645 • Epson WorkForce 6530 • Epson WorkForce 6590 • Epson WorkForce 6593 • Epson WorkForce 845 • Epson WorkForce2650 • Epson WP-4010 • Epson WP-4011 • Epson WP-4015 • Epson WP-4020 • Epson WP-4022 • Epson WP-4023 • Epson WP-4025 • Epson WP-4090 • Epson WP-4091 • Epson WP-4092 • Epson WP-4095 • Epson WP-4511 • Epson WP-4515 • Epson WP-4520 • Epson WP-4521 • Epson WP-4525 • Epson WP-4530 • Epson WP-4531 • Epson WP-4532 • Epson WP-4533 • Epson WP-4535 • Epson WP-4540 • Epson WP-4545 • Epson WP-4590 • Epson WP-4592 • Epson WP-4595 • Epson XP-200 • Epson XP-205 • Epson XP-207 • Epson XP-215 • Epson XP-300 • Epson XP-302 • Epson XP-303 • Epson XP-305 • Epson XP-306 • Epson XP-310 • Epson XP-312 • Epson XP-313 • Epson XP-315 • Epson XP-320 • Epson XP-322 • Epson XP-323 • Epson XP-324 • Epson XP-325 • Epson XP-330 • Epson XP-332 • Epson XP-335 • Epson XP-342 • Epson XP-345 • Epson XP-400 • Epson XP-401 • Epson XP-402 • Epson XP-405 • Epson XP-406 • Epson XP-410 • Epson XP-411 • Epson XP-412 • Epson XP-413 • Epson XP-415 • Epson XP-420 • Epson XP-422 • Epson XP-423 • Epson XP-424 • Epson XP-425 • Epson XP-430 • Epson XP-431 • Epson XP-432 • Epson XP-434 • Epson XP-435 • Epson XP-441 • Epson XP-442 • Epson XP-445 • Epson XP-510 • Epson XP-520 • Epson XP-530 • Epson XP-540 • Epson XP-55 • Epson XP-600 • Epson XP-601 • Epson XP-605 • Epson XP-610 • Epson XP-615 • Epson XP-620 • Epson XP-621 • Epson XP-625 • Epson XP-630 • Epson XP-635 • Epson XP-640 • Epson XP-645 • Epson XP-700 • Epson XP-701 • Epson XP-702 • Epson XP-710 • Epson XP-720 • Epson XP-721 • Epson XP-750 • Epson XP-760 • Epson XP-800 • Epson XP-801 • Epson XP-802 • Epson XP-810 • Epson XP-820 • Epson XP-821 • Epson XP-830 • Epson XP-850 • Epson XP-860 • Epson XP-900 • Epson XP-950 • Epson XP-960
Xerox AirPrint Printers
• Fuji Xerox ApeosPort-V 3065/3060/2060 • Fuji Xerox ApeosPort-V 4020 • Fuji Xerox ApeosPort-V 5070/4070/3070 • Fuji Xerox ApeosPort-V 7080/6080/5080 • Fuji Xerox ApeosPort-V C3320 • Fuji Xerox ApeosPort-V C7775 /C6675 /C5575 /C4475 /C3375 /C3373 /C2275 Type 2 model • Fuji Xerox ApeosPort-V C7776/C6676/C5576/C4476/C3376/C2276 • Fuji Xerox ApeosPort-V C7780 /C6680 /C5580 Type 2 model • Fuji Xerox ApeosPort-V C7785/C6685/C5585 • Fuji Xerox ApeosPort-VI C7771/C6671/C5571/C4471/C3371/C2271 • Fuji Xerox DocuCentre-V 3065/3060/2060/1060 • Fuji Xerox DocuCentre-V 5070/4070/3070 • Fuji Xerox DocuCentre-V 7080/6080/5080 • Fuji Xerox DocuCentre-V C2265/C2263 • Fuji Xerox DocuCentre-V C7775 /C6675 /C5575 /C4475 /C3375 /C3373 /C2275 Type 2 model • Fuji Xerox DocuCentre-V C7776/C6676/C5576/C4476/C3376/C2276 • Fuji Xerox DocuCentre-V C7780 /C6680 /C5580 Type 2 model • Fuji Xerox DocuCentre-V C7785/C6685/C5585 • Fuji Xerox DocuCentre-VI C7771/C6671/C5571/C4471/C3371/C2271 • Fuji Xerox DocuPrint • Fuji Xerox DocuPrint 5100 d/5105 d • Fuji Xerox DocuPrint CM210 z • Fuji Xerox DocuPrint CM310 z • Fuji Xerox DocuPrint CM315 z • Fuji Xerox DocuPrint CM318 z • Fuji Xerox DocuPrint CM405 df • Fuji Xerox DocuPrint CM415 AP • Fuji Xerox DocuPrint CP210 dw • Fuji Xerox DocuPrint CP310 dw • Fuji Xerox DocuPrint CP315 dw • Fuji Xerox DocuPrint CP318 dw • Fuji Xerox DocuPrint CP405 d • Fuji Xerox DocuPrint M225 dw • Fuji Xerox DocuPrint M225 z • Fuji Xerox DocuPrint M260z • Fuji Xerox DocuPrint M265 z • Fuji Xerox DocuPrint M268 dw • Fuji Xerox DocuPrint M268 z • Fuji Xerox DocuPrint M455 df • Fuji Xerox DocuPrint M465 AP • Fuji Xerox DocuPrint P225 d • Fuji Xerox DocuPrint P260dw • Fuji Xerox DocuPrint P265 dw • Fuji Xerox DocuPrint P268 d • Fuji Xerox DocuPrint P268 dw
HP AirPrint Printers
• HP Color LaserJet Enterprise -Flow M850z • HP Color LaserJet Enterprise -Flow M850z+ • HP Color LaserJet Enterprise -Flow MFP M855dn • HP Color LaserJet Enterprise -Flow MFP M855x+ • HP Color LaserJet Enterprise -Flow MFP M855xh • HP Color LaserJet Enterprise M750dn • HP Color LaserJet Enterprise M750n • HP Color LaserJet Enterprise M750xh • HP Color LaserJet MFP M557dn • HP Color LaserJet MFP M557dnm • HP Color LaserJet MFP M557f • HP Color LaserJet MFP M557z • HP Color LaserJet MFP M557zm • HP Color LaserJet Pro M252c1 • HP Color LaserJet Pro M252c10 • HP Color LaserJet Pro M252c2 • HP Color LaserJet Pro M252c3 • HP Color LaserJet Pro M252c4 • HP Color LaserJet Pro M252c5 • HP Color LaserJet Pro M252c6 • HP Color LaserJet Pro M252c7 • HP Color LaserJet Pro M252c8 • HP Color LaserJet Pro M252c9 • HP Color LaserJet Pro M252dw • HP Color LaserJet Pro M252n • HP Color LaserJet Pro M452dn • HP Color LaserJet Pro M452dw • HP Color LaserJet Pro M452nw • HP Color LaserJet Pro MFP M177 • HP Color LaserJet Pro MFP M274n • HP