What is Collate Printing?
Do you want your documents to be Collated When Printing? When printing you can be asked if you want to collate your documents.
The term Collate means to arrange or gather a range of individual sheets or documents and arrange them into a sequence or order, which has been predefined.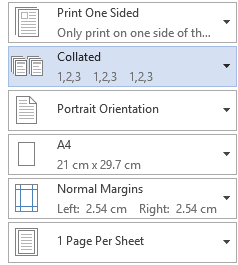 So in printing it basically means that you can arrange your documents into whatever order you decide before proceeding to print, which is ideal for printing large documents such as leaflets, brochures, or office documents.
In general, a document is usually presented in a number order. For example if you wanted to take print separate piles of a document to take 1 from each stack for a workbook to be sent to a printing press for binding you may want to collate your document into the order you want to print.
Many printers contain the function to program to print paper in an order pre-set to when the documents has been printed.
By collating your documents when printing can improve your time and efficiency, because the document are already sorted for you. For example if you were printing 100 x 100 page documents you could rearrange the printing order to print page 1 100 times and then page 2 100 times and so forth.
Sometimes, if you're just creating handouts collating can already pre-set pages for you just to create nice piles of paper in the correct order, rather than having to sift them in order.
Collating documents can be very useful when printing.