HP's New Firmware Locks Ink Cartridges
HP's recent firmware updates for some of their printers 'locks' the genuine HP ink cartridge. What does this mean? Well it means that the original HP cartridge cannot be used in any other printer, which also prevents it from being recycled.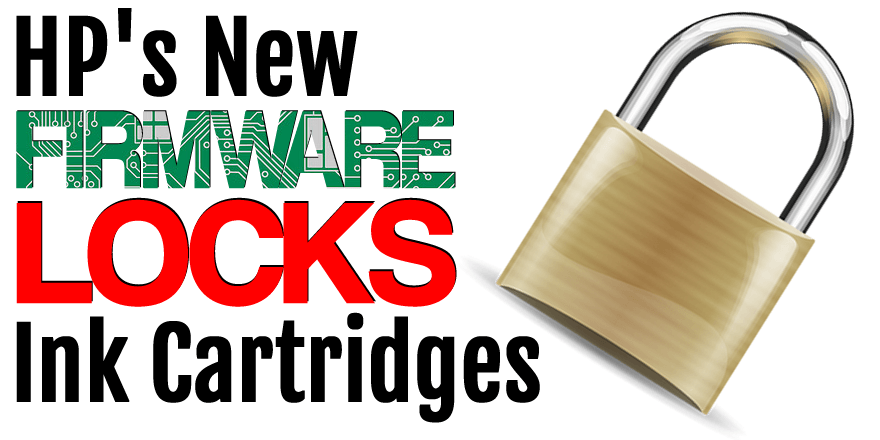 When it comes to firmware, updating to the latest version can sometimes make things worse. This is common in the printer industry, where firmware is used, limiting the use of third party ink cartridges.
This isn't a problem if you only use original ink cartridges as you'll be unaffected.
However, if you use third party or remanufactured ink cartridges, you may want to avoid updating your firmware in some cases.
But why is this?
Well often, a consumer will have a fully functioning printer which they are happy with, only to discover one day it no longer prints.
All of a sudden the previously used third party ink cartridges now won't work. The most common reason for this is usually a new firmware update.
Lately, HP have been advising customers to lock their genuine HP ink cartridges to prevent theft. Once locked, the cartridges cannot be used in any other printer.
When the cartridge is empty and wants to be remade and recycled for use again, it remains locked to the printer.
The bottom line is:
Once your cartridge has become locked to a printer, it will only ever work with this printer and no others.
There are lots of questions surround this issue, so here at Internet-ink we have compiled a list of frequently asked questions to help you with your ink cartridge issues.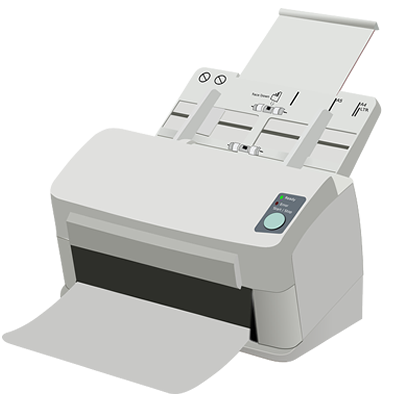 What is firmware?
Basically firmware is software that is inserted in a piece of hardware , software for hardware if you like. Although you may think that ink cartridges are just pieces of hardware, inside them is software that is programmed into the memory of the hardware itself.
What's the difference between firmware and printer drivers?
Whereas firmware is installed directly to your printer or ink cartridge, drivers are installed on your PC. Printer drivers are there to help your printer and PC communicate. These updates are not critical to how you can use your printer. You can even install a previous driver if you are not happy with your current one.
What does updating firmware mean for my ink cartridges?
Manufacturers often release regular firmware updates in order to make sure hardware is kept up to date with new media.
In this case, the firmware update locks the HP ink cartridge meaning it cannot be used again, stopping the cartridge from being recycled and generating more waste to be put in landfills. Usually when an ink cartridge is empty, the cartridge can be remanufactured and turned into a usable compatible ink cartridge. With HP's new update however, cartridges can sometimes no longer be reused. Unlike some common printer problems, issues caused by updating firmware cannot be changed.
How to disable HP cartridge protection on my printer?
If you are looking to disable HP cartridge protection on your printer follow the instructions below:
You can disable the HP cartridge protection feature by simply going to the "Settings" tab of your printer software panel.
If your printer is connected to a network. Just copy and paste your printer's IP into the browser opening the software panel.
In the Settings tab, you will find an option to disable the cartridge protection. Select this option and click apply.
If you get the HP cartridge protection message or cartridges are un-recognised check these settings on your printer as part of general troubleshooting.
You may need to remove and reinstall the cartridge for it to be recognized properly.
What HP ink cartridges does this affect?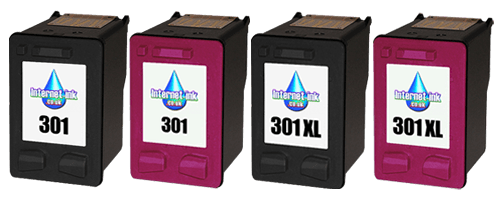 This update causes the popular HP 301 compatible ink cartridges to no longer work and also some of the newer range HP envy printers. This includes the standard and high capacity cartridges:
-HP 301 Compatible Black Ink Cartridge
-HP 301 Compatible Colour Ink Cartridge
-HP 301 XL Compatible Black Ink Cartridge
-HP 301 XL Compatible Colour Ink Cartridge
Which printers does the firmware update affect?
The firmware stops compatible HP 301 ink cartridges from working in the following inkjet printers:
- HP Envy 4500
- HP Envy 4502
- HP Envy 4504
- HP Envy 4505
- HP Envy 5530
- HP Envy 5532
- HP Envy 5539
- HP Officejet 2620
- HP Officejet 2622
- HP Officejet 4630
- HP Deskjet 1000
- HP Deskjet 1010
- HP Deskjet 1050
- HP Deskjet 1510
- HP Deskjet 1512
- HP Deskjet 1514
- HP Deskjet 2050
- HP Deskjet 2050A
- HP Deskjet 2050s
- HP Deskjet 2510
- HP Deskjet 2540
- HP Deskjet 2542
- HP Deskjet 2544
- HP Deskjet 3000
- HP Deskjet 3050
- HP Deskjet 3050A
- HP Deskjet 3055A
How do I know if my HP ink cartridges have been locked?
Once the update has been done and the cartridges are locked, you'll see messages such as: "Cartridges locked to another printer", "Cartridges failed" or "Cartridges cannot be recognised".
Unfortunately, there is nothing you can do once you see this message. You will only be able to use genuine HP ink cartridges in your printer. Compatible ink cartridges will not work.
How can I avoid this update?
We advise to thoroughly read any update information and on screen information before confirming an updates. Once you accept the update, there is no going back and only original HP ink cartridges will work with your printer. If you are unsure about anything, you should contact the seller of your ink cartridges who will inform you on the best course of action.
Can I use my compatible HP 301 ink cartridges if I don't install the firmware update?
Yes you can! Pay very close attention to any on screen information before you accept any firmware updates. During the update process, you will be presented with a tick box. Ticking this means you agree to take full responsibility for the update and any problems that may emerge. Usually this is written in the long text that people rarely read. This is a deliberate tactic used by manufacturers to make you do the firmware update and to make you take full responsibility should anything go wrong.
If you do not tick this box and do not install the firmware update, your compatible HP ink cartridges will continue to work. Should you need any assistance with installing compatible HP 301 ink cartridges, this video will instruct you on how to successfully install them:
What do HP say?
HP cartridge protection is a feature that allows a user to protect their ink cartridge. In regards to the newer printers like the HP Envy series, if you sign up to HP Instant Ink and accept the updates your ink cartridge is then locked when it's empty. The precise wording used on the HP website is:

If you attempt to use anything other than genuine HP ink, your printer will detect that the cartridges are locked into another product with HP Cartridge Protection feature and will not work in this product.
Will I ever be able to use remanufactured HP ink cartridges in my printer again?
The short answer is no. The HP protection notice stops all non-original cartridges from working with your printer. If you enable updates or HP cartridge protection on your printer. HP is essentially forcing you to buy their more expensive brand new cartridges and preventing you from recycling your ink cartridges.
---
We hope any questions and concerns you have about your HP 301 ink cartridges not working have been answered. If you are happy with how your device is performing and it does everything required, there is no need to rush ahead and install firmware updates. Installing a firmware update in haste could cause you many hours of problems later down the line or could even end up costing you money.
Often in the print industry, firmware updates actually downgrade features and functions of printers, and HP is no exception!
In this case, HP's firmware update is designed to limit the use of third party consumables. This isn't a problem if you only use OEM Genuine/Original HP ink cartridges. However, if you are one of the many people who don't buy HP's overpriced original cartridges, it would be best to avoid this firmware update. Preventing consumers from using the ink cartridges they want is a bullying tactic HP is using to wrestle back more money.
Take a step back for a second, if you are happy with how your printer is working, you can use the cartridges you want and it is producing high quality prints, ignore this firmware update. If you have already updated, unfortunately you will only be able to use original HP inks from now.