Printer Test Pages are used to check a number of things with your printer to
help maintenance
and also
solve troubleshooting with ink cartridges
 on your printer, or just as part of general maintenance with your printer.
What is a Printer Test Page?
Here at Internet-Ink the most common problem we encounter is with inkjet printers, and more often than not these can be sorted out with a test page. So it's always good to have one available when you need it.
What Problems will a test page fix?
A printer test page will reveal and identify the reasons you would want to print a test page in the first place. The
issues a printer test page can identify are
blocked printheads, alignment issues and can also help match colour replication. By finding the printer issue by printing a test page you can solve the problem quicker.
Printer test pages can also be used to keep the ink flowing in your printer. If your printer goes unused for a long period of time, the printheads may get blocked or the ink in and around the cartridge or the printer will dry and cause blockages or inconsistent ink flow. By regularly printing a test page you will help maintain the printer and improve the quality of your printing and lifespan of your printer. This can save you money in the long run.
How to print a test page for your printer?
We all understand ink can be expensive. The last thing anyone wants is to use all that valuable ink printing out print test pages.
Here at Internet-Ink we have put together these free online test print pages of the essential components of the black printer test page and a colour printer test page saving you as much ink as possible.
Here are some basic instructions to print a test page for your printer using our free online printer test page tool. To print a test page:
-Scroll down to the black or colour test page below in this article.
-Select the relevant page link depending on what type of test page you would like to print.
-Right click the link and select "Save Image As".
-Once you have saved the printer test page image open it up, right click then hit print.
-Your printer test page will now print.
Internet-Ink Print Test Pages
We have two printer test pages available for you to try:
The colour test page can be used for printers that use four or more colours. The purpose of the graphics are: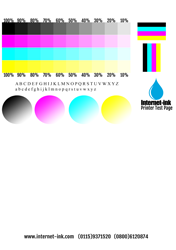 The "colour intensities graph" helps identify colour replication and assists to flushing the printhead, the "rainbow bars" helping the print head align, helping to stop colours appearing where they shouldn't.
The "radial gradients" also help identify colour replication but also help determine if the printhead is capable of sustaining printing of that colour.
This colour test page will work on all printers for test pages including HP printer test pages, Epson printer test pages, Canon printer test pages, Brother printer test pages and lots more.
Similar to the previous test page, the black printer test page has an "intensities graph". This one however, just works in grey scale. The "radial gradients" also work the same helping you to see if the print head will consistently print the right amount of colour. The main difference with the black and white graph apart from the lack of colour is the "grid". This serves the same purpose as the "rainbow bars" by helping to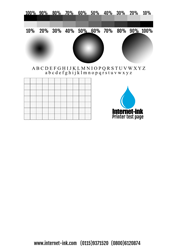 align the printhead to ensure acurate print outs.
This black printer test page will work on all printers for test pages including HP printer test pages, Epson printer test pages, Canon printer test pages, Brother printer test pages and lots more.
Both print test pages have a small block of text that serves the same purpose on both sheets to replicate and do a test for text printing. We use the standard font of times new roman to represent the kind of printing a typical user will do daily as accurately as possible.
Printer Test Page Analysis
Once you have printed your page you should be able to see any immediate issues with your printing that will be obvious to the naked eye.
Any breaks in the text are best addressed with a printhead cleaning cycle. Printer test sheets can assist cleaning the print heads but are not the optimal solution. Every printer including HP, Canon, Epson, Samsung, Kodak printers have some sort of a "Printhead Cleaning Cycle" which should be located in either the menu settings on your printer screen display or on your computer under "devices and settings".
We recommend running the cleaning at least once before you print a test page again for best results. You can use these test pages on any InkJet or LaserJet printer. This includes printers for makes like HP, Epson and Canon.
What if I Can't Print at All?
If you're printer isn't printing follow these simple checks.
Make sure the ink cartridges are installed correctly in the right slots for each cartridge
-Check the printer tab or tape covering the air hole is removed fully from the top of the cartridge. This allows the air to flow and release ink from the cartridge.
-If your printer is still failing to print after this try to restart your printer by removing the ink cartridges and disconnecting your power supply.
If you need any further help after this try contacting your ink cartridges supplier for more assistance. All cartridges purchased from Internet-Ink come with an all-round free support service to help install, troubleshoot and get the best prints from our cartridges.
Internet-Ink supply ink cartridges and toner cartridges at some of the cheapest prices online, with the addition of FAST FREE UK delivery, a 1 year warranty on all ink and toner as well as an excellent customer support team ready to help with any printing issues you may have.