Canon Pixma MG5550 Ink Cartridges
11 Matches
Buy Canon MG5550 ink at Internet-Ink for fast free delivery, a 1 year guarantee and 10% off future Canon Pixma MG5550 ink orders at Internet-Ink.
Cheap Canon MG5550 Ink available at Internet-Ink
The Canon pixma MG5550 is a clean and compact all in one, offering the ability to print, copy and scan in one easy solution. Ideal for the home printer the Canon Pixma MG5550 can fit into any small space and is compatible with smart web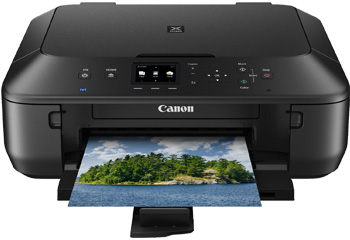 printing software and Canon MG5550 ink comes with 5 single ink cartridges including the Canon PGI-550 ink and CLI-551 ink cartridges.
The Canon MG5550 printer produces high quality photo prints at home, using its 4800dpi high resolution photo printing and micro ink droplet technology for precise and clear prints. Furthermore, with Canon's ChromeLife100 system, photos last for longer and don't fade. The MG5550 also features a 1200dpi scanner and 8.4 ipm print speeds, making this an excellent choice for speedy home photo printing.
Genuine Canon MG5550 Ink Cartridges at Internet-Ink
Internet-Ink stock the original and compatible Canon MG5550 ink with the best savings coming with the compatible cartridges and Canon multipacks. The Canon Pixma MG5550 ink uses 5 cartridges including the photo black to give that added gloss to your home printing.
The genuine Canon ink cartridges at Internet-Ink, produce high quality photos prints with the Canon PIXMA MG5550. These original Canon ink cartridges use pigmented ink to produce long lasting, high quality prints that don't fade. The Canon PIXMA MG5550 uses the CLI-551 and Canon PGI-550 ink system for full photo quality printing at affordable prices.
Canon Pixma MG5550 Review

Canon MG5550 all-in-one brings scan, print and copying to users for an affordable price.
Reviewing the Canon Pixma MG5500 was pretty simple, with its curved edges which give the machine a stylish design that has become synonymous with the Pixma range from the manufacturer. The MG5550 printer offers a simple and easy-to-use control system, making it uncomplicated for users to navigate their way through the options given. The 2.5-inch screen is big enough to make commands clear to see but not too large to encompass too much of the machine, or take away from the space given to the directional buttons.
Canon's Pixma MG5550 brings a range of connectivity options, supporting both tablets and smartphones, and can be used in tandem with cloud services such as DropBox - offering real flexibility for users. The Canon prints pages at a fast enough rate for home users, though it could fall short in a professional setting. The overall package is built on a strong combination of printer inks with three colour cartridge and two blacks - giving more detail and definition to prints.
Canon MG5550 Ink Delivered for Free at Internet-Ink
Order Canon MG5550 ink at Internet-Ink today and get your cartridges delivered quickly. All Canon ink cartridges are delivered for free using Royal Mail 1st Class. So order your Canon Pixma MG5550 ink today and get a 1 year guarantee on your cartridges as well as 10% off your next order of Canon MG5550 ink.
Using Compatible Canon MG5550 inks:
Internet-Ink compatible Canon MG5550 inks are designed to fit into your printer and be used straight away. Once inserted and clicked into place you should be able to use your ink cartridges without any problems and will work identically to if you were using original or genuine Canon Pixma MG5550 ink.
Sometimes depending on your printer, if you're seeing any error messages, you should be able to continue printing by bypassing the warning messages. If you're having any problems or need support with your Canon MG5550 ink then just contact the Internet-ink Canon customer support team who'll help you go through the step to get your cartridges working.
All Internet-Ink Canon MG5550 ink comes with 1 year guarantee on purchase and with our support team both before and after you purchase to help you get the best from your Canon Pixma MG5550 ink from us. Using Internet-Ink Canon MG5550 ink in your printer doesn't invalidate or warranty or lock up any aspect of your printer. As one of the best sellers the Canon 550 and 551 compatible ink cartridges for the MG5550 inkjet printer, will work at the highest quality for your everyday printing.