Canon Pixma MG3150 Ink Cartridges
Internet-Ink.com win "Which Magazine" Best Ink Cartridge Brand 2021 & 2022
7 Matches
Buy Canon MG3150 ink cartridges at Internet-ink for fast free delivery, a 1 year guarantee and 10% off future Canon MG3150 ink orders.
Cheap Canon Pixma MG3150 Ink available at Internet-ink
The Canon MG3150 is a compact all-in-one featuring simple controls for the working family or home printer. The Canon Pixma MG3150 ink uses the popular Canon PG-540 and CL-541 ink technology to ensure you get superior prints every time. The Canon MG3150 is one of the latest models from the Canon MG ink, bringing together lab photo printing to your home.
The Canon MG3150 ink cartridges uses the Canon PG-540 and CL-541 ink which are available in both standard and XL cartridge versions and also original & compatible inks. Internet-ink stock Canon PG-540 for the Canon Pixma MG3150 cartridges and allows for environmental friendly ink to be used in your printer, by recycling your Canon Pixma MG3150 ink cartridges can save on cost and the amount of ink you can get out of your cartridge.
The Internet-ink customer support team are always available for your Canon MG3150 ink help at any time, remember your PG-540 ink is guaranteed for 1 year, comes with free delivery and you don't even have to leave the comfort of your own home. All Internet-ink orders on our high quality Canon Pixma MG3150 ink that comes with our amazing 10% discount to make sure you can purchase cheap Canon Pixma MG3150 ink every time, this is only available to Internet-ink customers.
Buy Canon MG3150 ink with Free Delivery and 10% off future ink orders
Canon Pixma MG3150 ink cartridges come in two different cartridges, so by purchasing your Mg3150 printer ink form us, we can assure you the quality you need to print the right documents. All Internet-ink Canon PG-540 and Canon CL-541 compatibles are remanufactured right here in the ink factory, they are cleaned, checked and tested to make sure they work perfectly in your Canon MG3150 printer. Please note if you're purchasing compatibles the ink levels on your Canon Pixma printer will not show, however, just click through the messages to get original Canon quality inks. If you need any help installing Canon ink please contact the customer support team.
Canon Pixma MG3150 Printer Review - a versatile, affordable machine

The Canon PIXMA MG3150 has been available since August 2011 and has proven to be an incredibly popular machine for both individuals and families. With its compact size, it is ideal for the modern family that want their printer to do its job reliably but be out of the way. However, it also makes it the perfect solution for students that need prints last minute and of good quality, but don't want a bulky machine to lug around.
The printer is the latest from the company's All-In-One range and, as such, is designed to print documents, content from the web and photos quickly and easily. The Canon MG3150 ink combines to give users incredible value for money and brings a high-standard of image quality to the everyday customer. It is also an attractive printer, thanks to its stylish and streamlined design, which makes its compact size look even more petite.
The Canon MG3150 is made more condensed in size due to the new FastFront design, which allows the paper and ink cartridges to be loaded from the front. This means that the unit can be placed against a wall or on a shelf as users don't need to access the top or back of the printer, meaning it takes up even less space in your home. It brings advanced features to those that don't want to splash a lot of cash on a printer.
Apart from the obvious saving that All-In-One machines bring, the Canon MG3150 allows users to access a number of sophisticated features that are usually reserved for more expensive machines. Customers will be able to take advantage of the Full HD Movie Print and Easy-WebPrint EX for Intelligent Web Printing.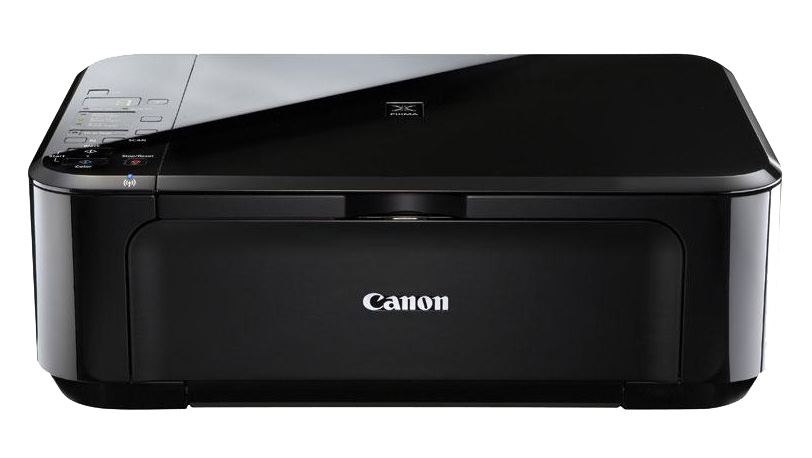 Canon's PIXMA MG3150 also includes Wi-Fi, allowing for complete flexibility wherever you are in the home. The company's focus on making machines that are extremely versatile is supported by the Canon Easy-PhotoPrint App. This allows users to access their printer from both Apple and Android devices, whether they want to scan or print. However, all these advanced features don't mean that your printer will be damaging the environment as the Canon MG3150 has the Quick Start option. This means that there is no 'warm up' period where you have to wait for your machine to be ready to print.
This makes it ideal for all users but especially those who are often in a rush. It also negates the need for you to keep your printer on constantly, which will save you money. For those that often have little time on their hands, there is the Easy-WebPrint EX, which allows you to print directly from the web. This is ideal for students who are doing research or for the everyday family that just doesn't have time to copy it into a document. The software means that you can combine a number of web pages onto one page to print with the Auto Clip option.
Canon MG3150 Printer Environmentally Sound
For the environmentally conscious customer, there is also the Auto Duplex that allows users to print on both sides, reducing the amount of paper that is used. Helpfully, Canon's PIXMA MG3150 will also tell you how many sheets of paper and CO2 has been saved by implementing this feature. The model supports a new ink formula that improves colour reproduction on plain paper, while also offering users significant savings. This ensures that the machine is well suited to both photo and document printing.
The FINE print head technology brings a minimum 2pl droplet size and maximum 4800dpi print resolution makes sure that, even the inexperienced user, can produce photos that are beautiful. Canon's PIXMA MG3150 is now available across the UK and is priced at just £69.
Canon MG3150 Ink Delivered for Free at Internet-ink
All Canon MG3150 ink cartridges are delivered for free using Royal Mail 1st Class. So order your Canon Pixma MG3150 inks today and get 10% off your next order.