Buy Epson XP-6000 ink cartridges for FREE UK delivery, 1 year guarantee and 10% OFF your next compatible XP-6000 ink order.
Buy Compatible Ink for Epson XP-6000
Our compatible XP-6000 ink offers great printing and are some of the best compatible inks on the market.
Why not check out our compatible ink reviews. Our 202XL cartridges are 100% guaranteed to work in your XP-6000 printer.
All XP6000 compatible ink comes with a 1 year no risk guarantee and our amazing customer support team on hand to help you out and get the best value for your XP-6000 cartridges.
If you're looking for the cheapest printer cartridges for your Epson xp-6000 you have come to the right place!
Why not have a look at the saver XP 6000 ink multipacks? They offer big savings and come with 2 FREE extra black ink cartridges. Making them the best compatible pack on offer.
If you're looking for the Expression Premium XP 6000 multipack, then check out the Epson 202XL pack. Offering a saving by buying all the printer cartridges together.
What Compatible Ink Works in Epson XP-6000 Printer?
The Epson XP-6000 works with the Epson 202 ink cartridge series also known as Epson Kiwi inks.
XP-6000 inks come in both high capacity (XL) known as 202XL and standard capacity 202 ink. We stock these in both compatible Epson and genuine original inks.
The cartridge numbers you're looking for with the Epson XP-6000 printer are the XL's (high capacity) 202XL (black), 202XL (photo black) 202XL (cyan), 202XL (magenta) and 202XL (yellow) in stock.
For the standard capacity XP-245 printer ink you have the 202XL (black), 202XL (photo black) 202XL (cyan), 202XL (magenta) and 202XL (yellow) in stock.
Comparing Epson XP-6000 Compatible Ink
Buying the XP-6000 compatible ink cartridges offer massive savings and bigger fills.
We fill our XL compatible XP-6000 black ink cartridges to 16ml and our colour cartridges to 9.5ml. That's over DOUBLE the capacity of the standard 202 ink and a bigger capacity than the original XL ink.
Our compatible XP 6000 inks offer high quality prints which are comparable in quality to the more expensive genuine Epson XP-6000 ink cartridges.
If you're unsure about buying compatible ink cartridges or have any questions about your Epson XP-6000 printer ink. Just contact our support team on freephone 0800 612 0874 who will be happy to answer any of your questions.
Did you know 8/10 customers use our Epson XP-6000 compatible ink cartridges which saves them up to 120% in comparison costs of buying the original ink.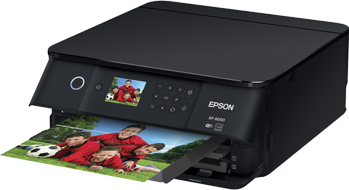 10% Discounts Codes with Compatible XP-6000 Printer Ink
All Internet-ink returning customers get a 10% discount on our compatible XP-6000 ink cartridges when they return to purchase again from us.
We reward loyalty and the quality of our replacement XP 6000 ink cartridges will speak for themselves.
Our customers continue to purchase their xp6000 compatible ink cartridges from us as they are easy to use, work straight away and we offer an all round customer service.
Buy Epson Premium Expression XP-6000 ink cartridges which are available in both genuine and compatible ink cartridges for this home printer.
Affordable Epson XP-6000 Ink Cartridges
This Epson Expression Premium XP-6000 is a black all-in-one inkjet printer which because of its sleek, compact design will fit in to any small office, business or home. These Epson XP-6000 is an easy to use inkjet printer that produces high quality prints.
The genuine Epson XP 6000 ink cartridges use high quality Epson Claria Premium ink which can produce stunning quality photos crisp documents.
Buy now from Internet-ink's secure online shop today and get 10% off your next compatible XP-6000 ink order. All our ink cartridges also come with a 1 year guarantee.