Buy HP 301 Ink Cartridges at Internet-ink for free delivery, a 1 year guarantee and 10% off your next HP 301 ink cartridge order.
HP 301 Ink Cartridges - HP 301 XL Printer Ink Cartridge Supplies
Internet-ink stocks both original and compatible HP 301 ink cartridges. Our compatible ink cartridges offer great savings on the original without sacrificing quality and are filled to a massive 15ml (black) and 18ml (colour). All 301 ink orders come with your 10% discount code to save you more.
Our HP 301XL compatible ink cartridges are great value for money as they hold more ink than the high capacity HP 301XL cartridge, while also being much cheaper. Our compatibles are filled with high quality ink that is comparable to original HP ink. Using compatible ink cartridges doesn't invalidate your warranty and offers you great value with a recycled and clean brand new compatible 301 ink cartridge.
HP 301 XL Original High Capacity Ink Cartridges
The original HP 301XL high capacity ink cartridges let you easily print vivid colour documents, reports and letters while getting a great value, high page yield cartridge. The HP 301 XL holds more than twice the amount of ink as the standard capacity original HP 301 inks.The original HP301 ink cartridge is designed to deliver user-friendly features at an affordable price, printing laser-quality text and vivid images.
The standard capacity HP301 ink cartridge is for users who have a low print volume.The HP 301 ink cartridges are high quality HP original inks. With two ink cartridges available in the range, with HP 301 Black ( CH561EE ) and the HP 301 Tri colour ink cartridge ( CH562EE ) for the standard user consumption. For the larger print needs the HP 301 XL ( CH563EE ) black and the HP 301 XL ( CH564EE ) colour ink cartridges are available.
All the HP 301 ink cartridges are designed be great value to the customer as you would expect with any HP cartridge, with high quality clean crisp and vibrant prints with both the HP 301 black and colours cartridges on printing any type of document. For help installing HP 301 original or compatible ink cartridges, just watch Internet-inks video below or for any further help with your HP 301 ink cartridges see the Internet help page below.
Use the Internet-ink HP 301 help video to guide you through the process.
Help Installing Your HP 301 Ink Cartridges and Error Troubleshooting

With all the changes and updates involving the popular HP 301 ink cartridges, here's a point by point help on installing your cartridges, with the troubleshooting problems and a help video to help you get the best out of your HP 301 ink from Internet-ink.
How to Install HP 301 re-manufactured or compatible ink cartridges
This video from Internet-ink will instruct you on how to install the HP 301 black and colour ink cartridges and walk you through any ink warning messages that may appear. Visit www.internet-ink.com for all your printer supply needs and further support help.
• To begin with, install the black HP 301 cartridge.
• Centralise the ink carriage by opening the printer door.
• Remove your new ink cartridges from their outer packaging.
• Remove the blue tape from the cartridge.
• With a sheet of kitchen paper, wipe the ink cartridge head. This will release the ink.
• Place the ink cartridge in to the carriage, making sure it clicks in to place.
• Now, we will install the colour cartridge using the same method as the black.
• Note that the colour cartridge will not have blue tape to remove.
• Close the printer door. The cartridges will now initialise.
• The printer's low ink warning LEDs may light up. These can be safely ignored, as re-manufactured HP 301 ink levels cannot be reset.
When you start to print with your new cartridges, you will receive a number of on-screen messages.
• The first pop-up message to appear will ask you to align your print heads. We recommend you do this, following the instructions on-screen.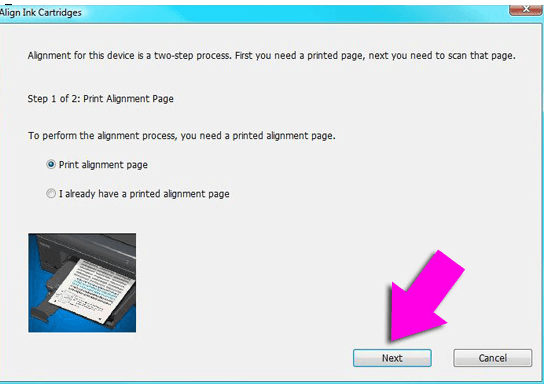 • The second message is a 'used or counterfeit cartridges detected' warning. Simply click 'no'.

• The third and final message that will appear will be another used cartridge warning, on this pop-up click 'OK'.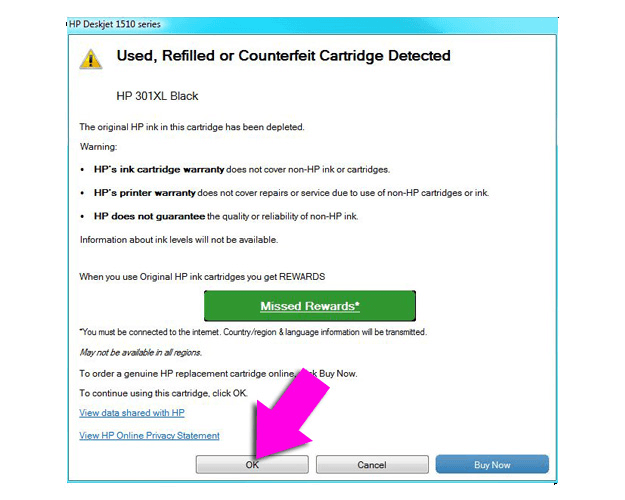 • If you have installed two re-manufactured cartridges at the same time, you will receive the previous two pop-up messages a second time. Click 'no' and 'OK' again.
• You have now installed your HP 301 ink cartridges and are ready to print.
Other warning messages for the HP 301 and troubleshooting may include:
'Cartridge is empty' -
Depending on the printer model. Most compatible and remanufactured HP 301's will show the ink levels as empty. This does not always mean the ink cartridge is empty. Try and print a test page or page on your printer, ignore the warning messages you should be able to print. Ink Levels are just a way to monitor how much ink is left before you purchase new cartridges. You will notice this when you get streaks or blanks across your printing page. If you have printed a lot of pages then your cartridge may be empty.
'Older generation cartridge installed' -
With the new generation of HP ink cartridges you may get a warning message about 'older generation cartridge installed, this means that your cartridge will not probably work with your printer. The check code on the printer cartridge should be printed with the date after 08/2014. If you get this message you will need to install a new V1 cartridge. Contact the customer support team to help replace your cartridge.
'Check ink/print cartridge' -
HP printers mostly can't check that you have reinstalled a new ink cartridge when using compatible or remanufactured ink cartridges. Check all the warnings below.
- Check the warning message -
The warning message will sometimes give you an indication to what problem is on the printer, make sure you take a screenshot or write down the message. Sometimes these messages can be simply ignored and clicked through to continue printing.
- Check ink cartridges are installed and clicked into place correctly -
Sometimes, the cartridges are simply not installed properly or clicked into place. Mild force is needed and you should here a faint 'click' when the go into place. If you're unsure if they have been put in correctly, just take them out, check the colour and black slot are in the correct places and re-insert the ink cartridge.

- Check the ink cartridges are the correct cartridges for your printer -
Make sure you have the correct ink cartridges installed for your printer. As HP printer cartridges look very similar this can be an easy mistake to make. If you're unsure of the cartridges that your printer takes, check the printer manual or ask your local ink cartridge dealer, then you can be sure that you have the correct ink.
- Carefully wipe the cartridge contacts to clear the dust or marks -
In some minor cases there might be some dust marks on the contact, give them a careful wipe so as not to damage the contacts as this will mean you will not be printing, as this is how the cartridge prints by communicating with the printer. If you're unsure it's best not to do this part. A cloth is sufficient to delicately wipe the contacts clean and then re-insert back into the printer.
- Try another ink cartridge -
Sometimes when using compatible or remanufactured HP 301 ink cartridges the electronics on the cartridge contacts may have blown, this will result in the cartridge showing as faulty. Simply, try and install another cartridge that you know works, even though the cartridges have been tested, these problems can occur; simply contact the customer support team for a replacement.
We hope this troubleshooting for errors and installation help on the HP 301 ink cartridges has worked. Please don't throw your cartridge away, it may just need replacing. If you're unsure simply contact the customer support team who can help with your problem and find a solution.
At Internet-ink, all HP ink cartridges come with a 1 year guarantee and are delivered for free using Royal Mail 1st Class. What's more, if you order now, you will be eligible to receive 10% off your next ink order. So order your HP 301 ink cartridges from Internet-ink's secure online store and start saving money on you printing costs today.