HP 62XL Ink Cartridges | Compatible 62XL Ink | Free UK Delivery
Shop for our high quality HP 62 ink cartridges. We stock both the original and compatible 62XL ink cartridges which are designed specially for the HP 62XL range HP printers. Our Extra Large (XL) HP 62XL compatible ink cartridges contain 75% more ink than HP original XL printer inks. Rest assured these replacement inks are guaranteed to work as well as the original HP 62XL cartridges. Our compatible ink cartridges contain 19ml of ink per cartridge as opposed to 4ml in the originals and come with a 1 year guarantee, delivery included and 10% off future compatible ink orders. Find out more information by selecting the products below.
7 Matches
Buy HP 62 ink cartridges at Internet-ink. The HP 62 ink contains high quality ink and comes with a 1 year guarantee, 10% off future orders and free delivery on HP 62 ink from Internet-ink.
Cheap HP 62 ink and HP 62XL ink in Original & Compatible Printer Ink Units
The HP 62 ink cartridges are available in 2 sizes of black cartridge, the HP 62 standard black is ideal for the low print user and the high capacity HP 62XL Black is offering a higher capacity and a amount of the standard original C2P04AE, we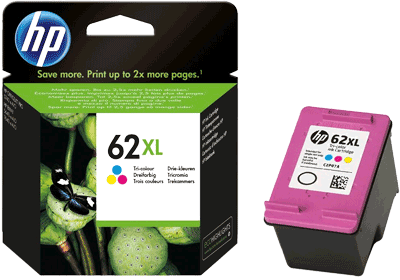 have plenty of options available for the HP 62 colour ink which is contains cyan, magenta and yellow and is available in both standard and XL cartridges.
The HP 62 ink is compatible with HP Envy printers that are primarily aimed at businesses, small offices and homes. Our HP 62 will also available soon if you need to print high-quality at low cost, offering comparable prints at with over a 50% saving. Both black and colour compatible inkjet units have a greater fill than the original HP 62 print cartridges and are cleaned, tested and checked before shipment to your home.
Cheap High Quality Compatible HP 62 Ink Cartridges Online with 10% Discount
Alongside the genuine HP 62 are our compatible HP 62 ink are ready to use directly out of the packet, no changing of fiddly electronic chips, just open the vacuum packet and install into your printer.
All our compatible HP 62 ink comes with high quality chips already installed with the cartridge. Furthermore, we add a 300% increase in the actual amount of ink we fill in our compatible HP 62XL cartridges compared to the original inkjet.
With most online retailers looking to cut corners and sell HP 62 ink cartridges without chips and no ink levels showing on your printer. Internet-ink includes all this as standard, so when you order your premium HP 62XL ink, once it's been delivered your HP 62 ink is ready to use as soon as you open the packet our compatible HP 62XL ink cartridge has a massive 19ml in the black ink cartridge.
Don't forget all our HP 62 ink cartridges at Internet-ink come with a great pre and after sales service, with any questions you need solving to call Internet Ink on we will help you out. Our ink cartridges come with a 1 year guarantee to make sure you get the most out of your HP 62 ink and also our loyal returning customers are rewarded with 10% discount to use off future orders to make them even better value. For all your HP 62 ink needs don't look any further than Internet-ink.
How much ink is in a HP 62 cartridge?
A standard cartridge holds 4ml black and 4.5ml colour. The 62XL holds 11.5ml colour and 12ml black. Our compatible 62XL cartridges hold 20ml black and 18ml colour. Compatible product fill's will change from website to website.
How long does HP 62 ink last?
It depends on what and how much you are printing. A HP standard black cartridge contains 4ml will print up to 120 pages at approx 5% average page coverage which is the size of a postcard. So if you are printing half or full pages of text only documents. it works out to be approx 20-30 pages per cartridge. If you print with pictures or logo's it will be less.
What is the difference between HP ink cartridge 62 and 62XL?
The main difference is the amount of ink. A standard cartridge holds 4ml black and 4.5ml colour. The 62XL holds 11.5ml colour and 12ml black. Our compatible 62XL cartridges hold 20ml black and 18ml colour.
What ink is compatible with HP 62?
The HP 62 is compatible with the following printers: Envy 5540 , Envy 5541 , Envy 5542 , Envy 5543 , Envy 5544 , Envy 5546 , Envy 5640 , Envy 5642 , Envy 5643 , Envy 5644 , Envy 5646 , Envy 5660 , Envy 5665 , Envy 5740 , Envy 7640 , Envy 7643 e All in One , Envy 7645 , Officejet 200 Mobile , Officejet 250 Mobile , Officejet 5740 , OfficeJet 5742 , OfficeJet 5744 , OfficeJet 5745 , OfficeJet 5746 , OfficeJet 8040 , OfficeJet 8045