HP CP1515N toner cartridges come with fast free delivery, 1 year guarantee with your orders for HP CP1515N toner cartridges only available from Internet-Ink.
High Quality Compatible HP CP1515N Toner Cartridges
Don't forget Internet-Ink offer some of the cheapest CP1515N toner on the market, our customers keep coming back due to the quality of our HP colour laserjet CP1515N toners so make sure you purchase your compatible HP CP1515N cartridges also known as the 125A or CB540A toner from Internet-Ink today!
Buy HP CP1515N toner cartridges with an array of all of the colours and black cartridges available to purchases with fast free delivery direct and also next day courier available. Buy HP Colour LaserJet CP1515N toner cartridges which are available in both genuine and compatible toner cartridges for this printer.
Cheap HP CP1515N Compatible Toner Cartridges
Buy HP CP1515N compatible toner cartridges from Internet-Ink. Our compatible offer great printing and are some of the best compatible toners on the market, why not check out our compatible toner reviews for the CP1515N printer.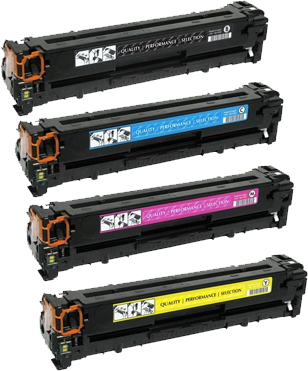 All CP1515N compatible toner cartridges in come with a 1 year guarantee and our amazing customer support team on hand to help you out and get the best value for your cartridges. If you're looking for the cheapest printer cartridges for your HP CP1515N printer toner then why not have a look at the saver multipacks available they offer big savings and come great value on your toner cartridges making the price even better.
We all know the mess and cost of making your own refillable toner cartridges for the HP CP1515N printer, so here at Internet-Ink we take all the mess out of it. There is no need for a replacement toner kit for your HP printer as we have taken all the work on for your and provided you with a range of CP1515N compatible toner cartridges that will slot into your printer and produce high quality printing at the cheaper price. All our CP1515N toner cartridges are refilled to the max and chipped ready for us in your HP CP1515N printer, so don't forget, that for all your return orders of compatible CP1515N laser UK toner you'll get free delivery and 1 year guarantee with your order making it the cheapest price for your toner and best all round value online!
125A Toner Compatible with the HP CP1515N Printer
The HP CP1515N toner cartridges are also known as the HP 125A toners they have the CB540 black, CB541A cyan, CB543A (magenta) and CB542A (yellow) in stock. If you're looking for the colour laserjet 1515N multipack then check out the HP 125A CB540A pack, which offers a saving by buying the printer cartridges together in a bundle. You can purchase all your HP toner cartridges directly from Internet-Ink secure online store at some of the cheapest prices online and don't forget when you return you can save more off our own brand CP1515N compatible toner compared to the genuine toner cartridges.
So when you need to buy a replacement for your HP CP1515N printer look no further than Internet-Ink, the toner printer cartridges will be compatible with your computer and are compatible with the brands such as HP as we are a registered re-seller. What we would advise is that if you have purchased a new computer or looking for a new set of toner for your HP CP1515N printer is to buy a full compatible multipack to make sure all the toner cartridges work. If you need any help please do get in contact with our support team for anywhere, which, what or why questions you have on your HP CP1515N printer toner choices as we make sure your get an all-round value service.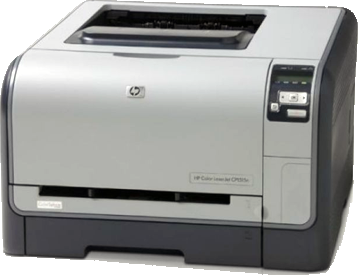 HP Colour LaserJet CP1515N Printer Review
The HP Colour LaserJet CP1515N printer is ideal for taking up that small compact space as this is not much larger than a standard inkjet printer so is ideal if you're in the market for a new printer. The HP CP1515N offers a simple and elegant compact white design networking capability features, USB slots and superb performance with an array of printing features, this is an ideal and affordable printe
r for small business printing for a multi-tasking individual on both imagery and textual documents.
By purchasing this printer, like other HP printers the HP Colour LaserJet CP1515N printer contains individual toner cartridge slots to place all the colours including black, cyan, magenta and yellow for your HP printer. This printer can accept both genuine HP and money saving compatible toner cartridges which perform at a fantastic level when printing. Whether in the small office or at home the HP Colour LaserJet CP1515N printer will offer comfort in the fact that you'll have peace and quiet, however with some of the printing speeds you could be waiting a while for it to warm up.