HP Deskjet 3050 Ink Cartridges
8 Matches
Buy HP Deskjet 3050 ink cartridges at Internet-Ink. The HP Deskjet 3050 printer ink comes with fast free delivery, 1 year guarantee and 10% off future compatible ink orders at Internet-Ink.
Cheap HP Deskjet 3050 Ink at Internet-Ink
The HP Deskjet 3050 printer is part of the HP deskjet printers designed to be aimed at the small home and office users. The convenience of the HP Deskjet 3050 price allows you to create professional looking documents and offer an alternative to laser printing.
The HP Deskjet 3050 ink takes the popular HP 301 and HP 301XL cartridges, which offer a standard and XL ink units depending on the amount you print. Internet-Ink stocks both the HP 3050 original and compatible cartridges. Make sure you check out the great value multipacks to save you even more.
Great Value HP Deskjet 3050 ink for your Business
The HP Deskjet 3050 comes with all in one printing features to allow you to print copy, scan and fax in one easy solution. With the compatibly of HP e-Print software you can print from anywhere in the office or on the go.
Here at Internet-ink make sure you keep up to date with your HP Deskjet 3050 ink cartridges by ordering online, we can even offer next day delivery to keep your business or home cartridge supplies moving and don't forget all returning customers will save a further 10% on your HP ink cartridges. Make sure when if you're in need HP Deskjet 3050 ink you shop at Internet-ink.
The HP Deskjet 3050 is a popular printer with great features for home or small business use.
Get 10% Discount off Compatible HP 3050 Ink
Don't forget Internet-Ink offer some of the cheapest HP 3050 ink on the market, due to the customer 10% discount you get on return compatible ink orders, our customers keep coming back, make sure you purchase your compatible HP 3050 ink cartridges also known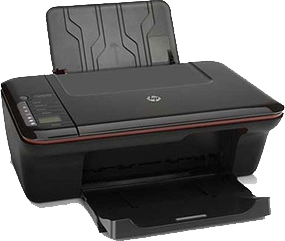 as the HP 301 and 301XL ink from Internet-Ink today!
Buy HP 3050 ink cartridges with a range of all of the colours and black cartridges available to purchase with fast free delivery. Buy hp Deskjet 3050 ink cartridges which are available in both genuine and compatible ink cartridges for this printer.
So when you need to buy a replacement for your HP 3050 ink look no further than Internet-Ink, when you're asking the question "where to buy HP 3050 printer ink?" the printer cartridges will be compatible with your computer and are compatible with the brands such as HP.
What we would recommend is that if you have purchased a new printer or looking for a new set of ink for your HP 3050 printer is to buy a compatible multipack to ensure all the ink cartridges work. If you need any help please do get in contact with our HP Deskjet 3050 ink cartridges UK support team for anywhere, which, what or why questions you have on your HP 3050 printer ink choices as we offer an all-round value service.
HP Deskjet 3050 Printer Ink Cartridges
The HP Deskjet 3050 all-in-one inkjet printer comes with incorporated wireless equipment allowing you to print from wherever in the home or workplace. The HP 3050 all-in-one is compact and easy to store, with print speeds up to 20ppm the HP Deskjet 3050 is a highly capable printer and ideal for those day-to-day print jobs. For heavy print users the HP 301 XL black and the HP 301 XL colour ink cartridges are available.
The HP 3050 offers some of the man similarities with the older deskjet 1050 printer. The HP 3050 can print, copy and scan with all types of document or whatever the customer needs, the difference being the wireless network abilities. The HP deskjet comes at an affordable price with very good long lasting printer inks. Using the HP 301 ink cartridge or the HP 301Xl high capacity inks, the HP Desk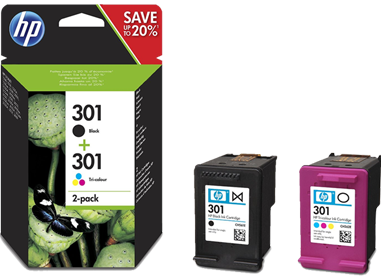 jet 3050 is one of the newer more capable printers with simple touch controls and it gets that printing job done.
Cheap HP 3050 Inkjets with Internet-ink
Get your HP 3050 cartridges straight to your door. Internet-ink offers an all-inclusive printer cartridges solution for your HP 301 cartridges, all our inks come with free delivery right to your door and offer a 1 year guarantee to make sure you g
et the best value out of your printer inks. The HP deskjet 3050 inkjets are perfect for any type of printing and your can get the best value from our saver packs only available at Internet-ink.
HP Deskjet 3050 Review
The HP Deskjet 3050 is extremely swift when printing black with colour prints not the same quality as some printers due to the use of a tri-colour cartridge, with print speeds of up to 20ppm on draft setting and its 250-sheet paper tray endures you won't run out of paper quickly. Great for a high volume office or for printing large documents.
The HP 3050's cloud printing features excellent, based on years of HP technology underpinning. Unfortunately the new HP touch screen operating system still hasn't quite ironed out all the bugs and can be unstable at times, this can be a problem when trying to do things quickly.
Advantages
- Wireless printing
- Auto-duplexing
- Cloud printing
Disadvantages
- Temperamental touch screen
-Black and Tri-colour cartridges use more ink.
The Deskjet 3050 is a fantastic printer with loads of features, high quality HP301 and HP301XL ink cartridges and a rapid print speed. With all you need to match for your replacement ink cartridges at Internet-ink you can save money shopping for 3050 printer cartridges. By purchasing all your HP 3050 inkjet cartridges online from Internet ink you'll save a lot of time and effort.