Buy Samsung ML-2571N toner cartridges at Internet-Ink. The Samsung ML-2571N toner cartridges contain high quality refill toner, with 1 year guarantee and FREE delivery. The Samsung ML-2571N cartridges are available in black genuine and compatible cartridges. Saver Samsung ML-2571N multipack toner packs are also available at a great price.
Buy Samsung ML-2571N Toner Cartridges at Internet-Ink
Internet-Ink offers a full range of the Samsung ML-2571N toner with free UK delivery as standard. These quick to install Samsung 2571N toner cartridges are the way forward. In addition the newer style Samsung ML-2571N toner is more economic and environmentally friendly.
The Samsung ML-2571N toner combines clear black toner refill making high quality finishes and clean, crisp printing to documents. Most of the Samsung ML-2571N printers use the single toner unit which includes the Samsung ML-2571N black toner.
High Quality Samsung ML-2571N Original & Compatible Toner Cartridges Online
The Samsung ML-2571N toner cartridges are used with the Samsung ML printers. These include printers like the Samsung ML-2010 and the Samsung ML-2510 which offer top printing.
Two Choices of Cheap Samsung ML-2571N Toner Cartridges
There is certainly plenty of choice when it comes to buying these Samsung ML-2571N. If you want to use original Samsung ML-2571N toner then you have choose the high capacity Samsung ML-2571N version of the cartridge.
The high capacity Samsung ML-2571N toner cartridges offer top price value for money, by holding a greater capacity. These Samsung ML-2571N toner black will save on the amount of time you have to switch and change the cartridges in your printer and save you money when you buy the combo multipack. The only issue with the high capacity Samsung ML-2571N cartridges is that you will have more money tied up in printer cartridges sitting in your Samsung printer. The black toners can print for approximately 3000 pages at 5% average coverage.
The Samsung 2571N toner is ideal for low toner users, here you will spend a lot more for less toner, but if you don't use that much then the original or refill Samsung ML-2571N toner could be ideal for your laser printer. The third and final choice is to try our fantastic compatible Samsung 2571N toner cartridges.
Cheap Samsung ML-2571N Compatible Toner supplies also win on price
We will let you decide, but as there is no difference in print quality, longevity or ease of use on our Samsung ML-2571N compatible cartridges, would you choose 3000 pages of toner for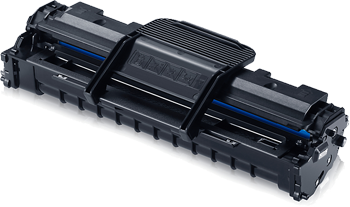 under £25 or genuine toner for £50?
Finally, here at Internet-Ink we offer multi buy savings of Samsung 2571N pack giving you greater value. In addition, for the first time compatible users, your purchase is guaranteed for 1 year with our black compatible 2571N toner and for even more value buy your toner cartridges in bulk. All Internet-Ink compatible and original toner cartridges come with a 1 year guarantee included with the product purchase. In addition, if you're having problems, contact the 5 star customer support team to solve your problem.
Samsung ML-2571N Toner Cartridge Supplies
Samsung ML-2571N printer toner cartridges offer a black refill cartridge that are compatible and remanufactured to work with a wide range of Samsung LaserJet printers. Each one of the toner cartridges in the Samsung 2571N toner cartridge range are available original or compatible versions, we offer better prices and value for money per-printed-page. Samsung ML-2571N cartridges use high quality Samsung toner to print lab-quality toner printing. For any questions please contact the support team via the website.