Buy Samsung Xpress SL-C460FW Toner Cartridges with fast free delivery and 1 year guarantee on all Samsung C460FW Toner Cartridge orders at Internet-Ink.
Cheap Compatible C460FW Toner Cartridges at Internet-Ink
Internet-Ink stocks both original and compatible Samsung Toner Cartridges for some of the most affordable prices online. Original Samsung Xpress SL-C460FW Toner Cartridges contain genuine Samsung toner that has been specially developed to produce high quality print outs with every use. Internet-Ink supplies original Samsung CLT-K406S Original Black, C406S Cyan, Y406S Yellow and M406S Magenta Toner Cartridges for some of the best prices online.
Internet-Ink also stocks compatible Samsung C460FW toner cartridges for an even cheaper printing solution. Samsung CLT-406S Compatible Toner Cartridges produce high quality prints just like the original toner, only for a much lower price. Compatible toner cartridges are guaranteed to easily install in your Samsung printer and supplied in black, cyan, magenta and yellow with CLT-406S multipacks available.
High Quality Printing with Samsung Xpress SL-C460FW Toner Cartridges
The Samsung Xpress SL-C460FW is a user friendly wireless colour laser printer that is designed for improving office productivity whilst maintaining a high quality output. The Samsung C460FW compact design allows it to fit effortlessly into small office spaces without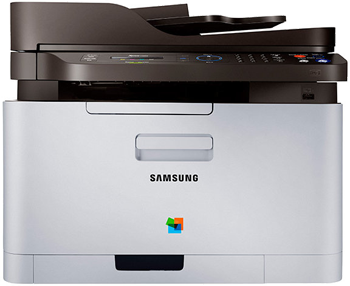 taking up too much room. Simple one touch controls, quiet operation and wireless and high speed USB connectivity make the Samsung C460FW a perfect choice for an office laser printer.
Replacing toner cartridges in the Samsung Xpress range of printer couldn't be simpler, removing toner has been designed to be simple, and so you can spend more time printing. This is especially useful in an office where keeping productivity levels up is vital. What's more, the Samsung Xpress SL-C460FW can handle 150 sheets of paper at a time and users can print photos and documents directly from Samsung Galaxy devices without the need to download special apps.
FAST Free Delivery for Samsung Xpress C460FW Toner Online
At Internet-Ink, we want to make sure you get your order of original or compatible Samsung Xpress SL-C460FW toner cartridges when you need them, which is why all orders of Samsung toner comes with free deliver fulfilled by Royal Mail. So that our customers can shop in confidence, all orders of Samsung Xpress SL-C460FW toner cartridges come with a 1 year guarantee.
Should you have any questions about your order of Samsung toner cartridges, just contact our support team who will be happy to answer any questions you might have. Order Samsung CLT-406S toner cartridges today and start saving.
The Samsung Xpress SL-C460FW uses the CLT-406S series toner which is available in both original and compatible versions. Our C460FW compatible toners offer comparable quality to the Genuine C-410W whilst helping the environment in the procedure. Samsung SL-C460FW toner comes with our 1 year guarantee and exclusive 5 star customer support service from Internet-ink.
Samsung SL-C460FW Review
The Samsung SL C460FW printer is ideal for taking up that small compact space in your home. If you're in the market for a new affordable printer with low-cost toner making printing cheap.
The Samsung C460FW is solely designed for that busy office combining black and colour prints at good print speeds. The SL-C460FW is designed using the new Samsung NFC print technology, basically meaning you can send printing jobs from your phone or tablet directly to the printer. Compact and stylish are the word associated with the C460FW printer combining the Samsung eco mode technology you have a very smart device. Not for the faint hearted at a decent price of £100+ you get all the combined features for a good Wi-Fi laser printer for the office.
Also the Samsung C460FW offers a simple and elegant compact design, with USB 2.0 capability features, smartphone wireless printing and superb performance with an array of printing features. This is an ideal printer for a simple monochrome printing for individuals, student or family home.
With the Samsung SL-C460FW is made for printing invoices, letters and black and white monochrome prints. As this is a laser printer the toner cartridges are made with toner powder and won't dry up. Easy to use and set up, the SL-C460FW offers great value for money, and decent printing speeds of around 18ppm.
Like other Samsung laser printers the SL-C460FW contains an individual toner cartridge slot to hold the CLT-406S toner. This printer can accept both genuine Samsung toner and money saving remanufactured or compatible toner cartridges.
Whether at home, work or in the small office. With the Samsung SL C460FW laser printer will offer a great affordable printer with cheaper prints and smarter printing.