Epson Expression Home XP-202 Ink Cartridges | Compatible XP-202 Ink | Free UK Delivery
15 Matches
Epson XP-202 ink cartridges come with fast free delivery,1 year guarantee and 10% off future compatible inks for Epson XP-202 ink cartridges only available from Internet-Ink.
Get 10% Discount off Compatible XP-202 Printer Ink
The Epson XP-202 ink uses the Epson T1816 which is available in both standard T1801 and XL T1811 cartridge versions and also original & compatible inks. Internet-ink Epson T1816 for the Epson XP 202 combines boundless class printing without losing out in your pocket only with compatible ink like the T1801-T1806 plus many more ink cartridges available.
Internet-ink buyer care team are always available for you Epson XP-202 help at any time, remember your T1816 ink is guaranteed for 1 year, comes with free distribution right to your doorstep, you don't even have to leave the house. All Internet-ink orders on our high quality Epson ink and come with our remarkable 10% discount to make sure you can purchase cheap Epson XP-202 ink every time, this is only available to Internet-ink regulars.
Epson XP-202 Compatible Ink Cartridges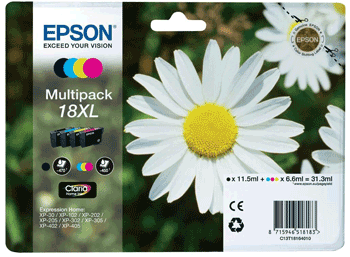 When shopping for your Epson XP-202 printer, so why not buy from a company you can trust. Being one of the biggest online retailers in the UK, Internet-ink can offer the best price, value and support for your Epson XP202 ink. Internet-ink provide some of best cheap Epson ink cartridges online for you and your printer, safe in the knowledge that once you place your Epson ink cartridge order, we will stay to help and allow you to get the most from your printer ink, which is what makes us the best.
Ink Compatible with the Epson XP-202 Printer
The Epson XP-202 daisy ink cartridges are also known as the Epson 18 inks they have the T1811 (black), T1812 (cyan), T1813 (magenta) and T1814 (yellow) in stock. If you're looking for the home xp 202 expression multipack then check out the Epson T1816 pack, which offers a saving by buying the printer cartridges together. You can purchase all your ink directly from Internet-ink secure online store at some of the cheapest prices online and don't forget when you return you'll save a further 10% off our own brand XP-202 compatible ink.
So when you need to buy a replacement for your Epson XP-202 printer look no further than Internet-ink, when you're asking the question "where to buy Epson XP 202 printer ink?" the printer cartridges will be compatible with your computer and are compatible with the brands such as Epson or Epsom as some people call it. What we would advise is that if you have purchased a new computer or looking for a new set of ink for your Epson XP-202 printer is to buy a compatible multipack to make sure all the ink cartridges work. If you need any help please do get in contact with our support team for anywhere, which, what or why questions you have on your Epson XP-202 printer ink choices as we offer an all-round value service.
Cheap Epson XP-202 Ink Cartridges at Internet-ink
The Epson XP-202 printer is a piece of the ever famous XP printers arrangement, being an all in one printer the XP-202 consolidates printing, duplicating and examining in one clean little bundle. The Epson XP-202 is the minimized way of the printer, intended to fit into any home and not look strange. With Wi-Fi capacity the XP-202 offers straightforward system network and permit simple printing from messages and cell phones utilizing Epson iPrint, Epson Connect and perfect with other programming.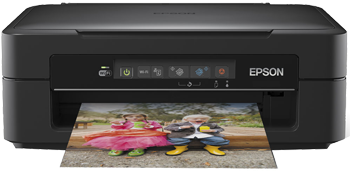 The Epson XP-202 ink takes the 18 ink cartridges which are otherwise called the Epson Daisy Ink. Consolidating Epson Claria ink you can get some incredible printing yield with a variety of archives and representation.
Internet-ink XP-202 cartridges offer a gigantic measure of cartridge stock with the Epson unique ink and good saver cartridges which can spare you cash without relinquishing the quality. With T2986 and T2996 multipacks accessible you can spare more purchase acquiring in mass which is awesome for the consistent print client. Don't forget Internet-Ink offer some of the cheapest XP-202 ink on the market our customers keep coming back due to our amazing cartridge quality and all-round service, make sure you purchase your Epson XP-202 cartridges online.
Epson Expression Home XP-202 Review
The Epson XP-202 is Wi-Fi enabled to make printing around the home and on the move a lot easier. The XP202 comes with the new Epson technology called Epson iPrint. Like the other printers in the XP series, this printer unit is small and compact to fit in to any small space at the home or in a small office. Ideally designed for the home user the Epson XP-202 is great value for users not in a rush.
The Epson XP-202 uses the Flower inks using the series T18 including a variety of standard an XL black and colour printing for under 1p a page. Producing clean and simple prints, based on the Epson models similar to the S20 printers. The printer uses Epson's Micro Piezo technology, to pack a punch with your prints, both documents and graphics.
Advantages of the XP-202 Printer
-Small and compact
-Value for money
-Single colours and inks.
-Easily replaceable.
-Ideal for simple and easy printing
Disadvantages Of the XP-202 Printer
-Set up time can be an issue with the printer and using the Wi-Fi capabilities. However, saying that the Epson printer is simple once it gets working.
-No USB attached with the printer. If you need to hook it up to your computer you need to purchase a lead or use one from your old Epson printer.
The Epson XP-202 printer offer simple clean and precise home printing, cheap to run and very economical with the right type of inks. Always depends on the amount of inks that a user goes through, some people use a lot of ink where as the majority use it for printing some items of the internet, maps or printing Christmas cards. If that's you then this printer is the one for you. The fact that it's an all in one printer makes the Epson XP-202 even better.
The Epson Expression XP-202 ink - a cost-effective, quality printer
People in the UK are increasingly looking for devices that can seamlessly transition from one area of their lives to the next, as this reduces the cost of buying multiple devices. This means that a printer that can meet professional and personal needs is a cut above the rest.
The Epson XP-202 offers users far greater flexibility than many in its sector, thanks, in part, to its Epson iPrint feature. The system gives consumers more freedom as it allows prints to be created quickly and easily produced from a number of devices. In a new multi-platform era, Epson's new printer can connect to a number of devices, such as smartphones, tablets and computers, through Wi-Fi.
Its automatic configuration means that connecting to all the devices in your home has never been easier. The Epson XP-202 will link to your Wi-Fi without any need to type in network settings or find a USB cable to connect it manually. It will find the relevant connection setting itself, minimising the amount of time it takes to get the device up and running. This flexibility makes printing and scanning extremely easy as you can do it from all over the house.
Epson's new printer also comes supporting Optical Character Recognition Software (OCR) to give users even more flexibility for their printing needs. The software allows users to transform scanned paper documents into text documents that they are then able to edit. This means that they can then be edited freely like any other text document and then printed out.
Catering for all markets, this feature also supports Asian languages, such as Traditional Chinese and Simplified Chinese.
The Epson XP-202 does not neglect performance with its array of high-specification features. The printer delivers fast and precise scanning, capable of up to 1200 dpi optical resolution. Paper can be produced at up to 30ppm, meaning that it is perfect for the working environment as waiting time is significantly reduced. This means that you are able to get on with your day and spend less time waiting for that all important document or proposal to finish printing.
However, something that both business and private users can benefit from is the low cost ink cartridges that are supported by this machine. Economy is a top priority for home printing and its Epson XP-202 features low cost individual ink cartridges.
The printer also goes hand-in-hand with a greener tomorrow as users are able to replace specific inks when only they have run out. This means that wastage and expense are greatly reduced for all types of users.
With its ink, the Epson XP-202 is capable of delivering both accurate, razor sharp black text, as well as superb high-quality photos on glossy photo paper with the Epson XP-202 ink. This makes the printer an extremely versatile machine that will cater to a number of users. The printer is capable of such precision printing thanks to its Micro Piezo print head technology, which delivers prints for your XP-202 Ink with an exceptional resolution of 5760 x 1440 dpi.
Showcasing yet another benefit, the machine is amazingly compact, making it perfect for home environments where space can be limited. However, the machine will also suit professionals as it can be put very tidily in a corner, meaning that managers don't need to dedicate an entire area to it.
The Epson XP-202 also negates the need to have three devices as it can scan, print and fax all to a high standard. This also saves homes and businesses money in the long run as they don't need to buy three separate machines but can instead invest in a quality printer that will perform all three tasks for them.