Epson XP-257 Ink Cartridges | Compatible XP-257 Ink | Free UK Delivery
Shop for our high-quality Epson XP-257 ink cartridges. We stock both the original and compatible Epson 29XL ink cartridges which are designed especially for the XP-257 printers.
Our Extra Large (XL) Epson 29XL compatible XP257 ink cartridges contain TWICE the amount of ink than Epson original XL printer inks. Rest assured these replacement inks are guaranteed to work as well as the original Epson 29XL cartridges for the XP-257 printer. Our compatible ink cartridges contain 18ml of ink per cartridge as opposed to 5.3ml in originals and come with a 1-year guarantee, free delivery and 10% off future compatible ink orders. Find out more information by selecting the products below.
13 Matches
Buy Epson XP-257 ink cartridges with fast free delivery, 1 year guarantee and 10% off future compatible ink orders for Epson XP-257 ink cartridges.
Buy Epson XP-257 Compatible Ink Cartridges
Our compatible XP 257 ink offer great printing and are some of the best compatible inks on the market, why not check out our compatible ink reviews.
All XP257 compatible ink comes with a 1 year no risk guarantee and our amazing customer support team on hand to help you out and get the best value for your Epson XP-257 cartridges.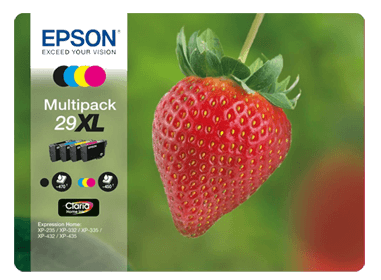 If you're looking for the cheapest printer cartridges for your Epson xp-257 you have come to the right place.
Why not have a look at the saver XP 257 ink multipacks? They offer big savings and come with 2 FREE extra black ink cartridges.
If you're looking for the home xp 257 expression multipack then check out the Epson T2996 pack, which offers a saving by buying the printer cartridges together.
Ink Compatible with the Epson XP-257 Printer
The Epson XP-257 strawberry ink cartridges are also known as the Epson 29 inks available in both standard and high capacity.
The cartridge numbers you're looking for with the Epson XP-257 printer are the XL's (high capacity) T2991 (black), T2992 (cyan), T2993 (magenta) and T2994 (yellow) in stock.
For the standard capacity XP-257 printer ink you have the T2981 (black), T2981 (cyan), T2983 (magenta) and T2984 (yellow) in stock.
Here at Internet-ink we only stock the XL high capacity compatible ink cartridges for your XP 257 printer to give you the maximum fill and best value.
We fill our compatible XP-257 black ink cartridges to 18ml and our colour cartridges to 15ml. That's TRIPLE the capacity of the standard and over DOUBLE the original fills of the original ink cartridges.
Where to Buy Epson XP-257 Printer Ink?
If you have recently purchased a new Epson XP-257 printer and looking to buy a new set of ink for your printer. We would advise purchasing a compatible multipack make sure all the ink cartridges work.
When you purchase your printer you get standard setup 29 ink cartridges with your XP 257 cartridges. These have minimum ink in them.
Once installed with a full set of Internet-Ink compatible 29XL ink cartridges, you will have no problems with the cartridges, but our support team will always be on hand to help.
If you need any help choosing your XP 257 ink please do get in contact with our support team for any questions you have on using your Epson XP-257 printer ink. At Internet-ink we offer an all-round value service with a freephone help and order number.
Internet-Ink offer the cheapest XP-257 ink on the market. Our customers keep coming back due to our amazing cartridge quality and all-round service, so make sure you purchase your Epson XP-257 cartridges online today!
Get 10% Discount off Compatible XP-257 Printer Ink
All Internet-ink returning customers get a 10% discount on our compatible XP-257 ink cartridges when they return to purchase again from us.
We reward loyalty, but the quality of our replacement XP 257 ink cartridges will speak for themselves.
Our customers continue to purchase their xp257 compatible ink cartridges from us due to ease of printing and all round customer service.
Did you know 8/10 customers use our Epson XP-257 compatible ink cartridges which saves them up to 80% in comparison costs of buying the original ink.
Buy Epson Expression XP-257 ink cartridges which are available in both genuine and compatible ink cartridges for this printer.