HP Deskjet 3520 ink cartridges come with free delivery,1 year guarantee and 10% off future HP 3520 ink cartridge orders.
Get 10% Discount Off Compatible Deskjet 3520 Printer Ink
Don't forget Internet-Ink offer some of the cheapest Deskjet 3520 ink on the market, due to the customer 10% discount you get on return compatible ink orders, as a result our customers keep coming back. Make sure you purchase your compatible HP Deskjet 3520 cartridges also known as the HP 364 ink from Internet-Ink today!
Buy HP Deskjet 3520 ink cartridges with an collection of all of the colours and black cartridges offered to purchase with fast free delivery. Buy HP 3520 ink cartridges which are presented in both genuine and compatible ink cartridges for this printer.
HP 3520 Compatible Ink Cartridges
Buy HP Deskjet 3520 compatible ink cartridges from Internet-Ink. Our compatible ink offers bargain printing and are some of the finest compatible inks on the marketplace. Why not check out our compatible ink reviews.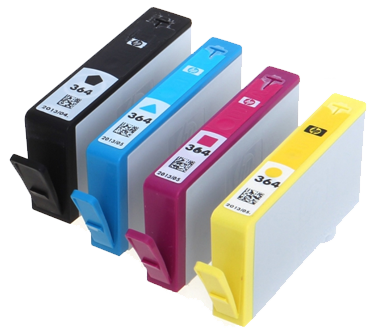 All HP 3520 compatible ink comes with a 1 year guarantee and our amazing customer support team is on hand to help you out to get the best price for your cartridges. If you're looking for the cheapest printer cartridges for your HP 3520 then why not have a look at the saver multipacks available, they offer big savings and come with 2 free extra black ink cartridges.
We all know the mess and cost of refillable ink cartridges for the HP Deskjet 3520, so here at Internet-Ink we take all the mess out of it. There is no need for a CISS ink kit for your HP printer either as the Deskjet 3520 compatible ink cartridges will slot into your printer and produce high superiority printing at the cheaper price. All our Deskjet 3520 are refilled to the max and chipped ready for us in your HP Deskjet 3520 printer, so don't forget, that for all your return orders of compatible HP 364XL ink you'll get a further 10% off your order creating the cheapest price for your ink!
Ink Compatible with the HP Deskjet 3520 Printer
The HP Deskjet 3520 364XL ink cartridges are also known as the HP 364 XL inks they have the 364 XL black, 364 XL cyan, 364XL magenta and 364 XL yellow and photo black in stock. If you're looking for the HP 3520 ink multipack then check out the HP 364XL pack, which offers a saving by buying the printer cartridges together. You can purchase all your ink directly from Internet-Ink protected online store at some of the cheapest prices online and don't forget when you return you'll save a further 10% off our own variety HP 3520 compatible ink.
Cheap HP Deskjet 3520 Ink available in Original and Compatible Printer Cartridges
The HP Deskjet 3520 ink consists of the ever popular HP 364 ink cartridge range, providing longevity and smudge free prints offering fantastic value with the compatible 364 printer ink. The printer uses black and 3 colours only so make sure the HP 3520 ink multipack that you purchase only contains 4 units and not the photo black. The HP 364 ink cartridges are available in both original and compatible cartridges so you can get the right ink..
So when you need to buy a replacement for your HP Deskjet 3520 printer look no further than Internet-Ink, the printer cartridges will be compatible with your computer and are compatible with the brands such as HP. What we would advise is that if you have purchased a new printer or looking for a new set of ink for your HP Deskjet 3520 printer is to buy a compatible multipack to make sure all the ink cartridges work. If you need any help please do get in contact with our support team for anywhere, which, what or why questions you have on your HP Deskjet 3520 printer ink choices as we offer an all-round value service.
All HP Deskjet 3520 ink is covered by our 1 year guarantee and offer great prints at outstanding value. If you're having any problems choosing or deciding on your HP Deskjet 3520 ink cartridges just get in contact. Our top rated customer support team will guide you through the process on the Freephone number. Internet-Ink is here to help with your HP Deskjet 3520 cartridges, order today and start saving money on your HP 364 ink cartridges.
HP 3520 Ink Cartridges Delivered Straight to Your Doorstep
Don't forget all Internet-ink HP Deskjet 3520 ink purchases get 10% off future compatible ink orders making our prices even cheaper. We offer the added bonus of FAST FREE Royal Mail 1st Class delivery right to your door. Save the stress of leaving the warm, cosy home and let us do all the work for you.
HP Deskjet 3520 e-All-in-One Review
The HP Deskjet 3520 printer is ideal for a home printer, if you're in the market for a new printer.
The HP 3520 printer allows you to print documents and photos from virtually anyway. With it's own email address, you can send the Deskjet 3520 an image for automatic printing. You can set up the HP Deskjet 3520 with a USB connection, or have it automatically join your Wi-Fi network.
At a printing resolution of 4800 x 1200 dpi, the HP Deskjet 3520 takes advantage of the HP 364 inks. The HP 3520 prints 8 black ppm or 7.5 colour, making it a fast colour printer. Printing on multiple paper sizes, as well as envelopes and transparencies is very easy.
The HP 3520 offers a simple and elegant compact design, with Wi-Fi capability and superb performance with many printing features. This is an ideal home printer for a multi-tasking individual or family home for both imagery and textual documents.
Like other printers the HP 3520 ink contains individual cartridge slots to place the colours. Each printer uses the HP black, cyan, magenta and yellow for your HP printer. This printer can accept both genuine HP and money saving compatible ink cartridges. Furthermore our compatible ink saves money and performs at a fantastic level when printing.
Advantages of the HP Deskjet 3520 Printer
- Email printing
- Compatible with A4, 45, A6 paper and envelopes
- Popular HP 364 ink.
- Prints on both sides to save paper
- Great colour printing speed
Disadvantages of the HP 3520 Printer
- Bad reputation for printing errors
- Noisy when printing
- High printer cost
In Summary, HP Deskjet 3520 has many good features. However, is renowned for being noisy and prone to issues such as paper jams and screen errors. With these disadvantages in mind, Internet-ink has given the HP Deskjet a 3 star rating.