HP Officejet 4610 Ink Cartridges | Compatible 4610 Ink | Free UK Delivery
Shop for our high quality HP Officejet ink cartridges. We stock both the original and compatible HP 364 ink cartridges which are designed especially for the Officejet 4610 printers.
Our Extra Large (XL) HP 364 compatible Officejet 4610 ink cartridges contains over TWICE the amount of ink than HP original XL printer inks. Rest assured these replacement inks are guaranteed to work as well as the original HP 364 cartridges for the Officejet 4610 printer. Our compatible ink cartridges contain 24ml of ink per cartridge as opposed to 6ml in originals and come with a 1 year guarantee, free delivery and 10% off future compatible ink orders. Find out more information by selecting the products below.
10 Matches
HP Officejet 4610 ink cartridges come with fast free delivery,1 year guarantee and 10% off future orders for HP Officejet 4610 ink cartridges only available from Internet-Ink.
Get 10% Discount Off Compatible Officejet 4610 Printer Ink
Don't forget Internet-Ink offer some of the cheapest Officejet 4610 ink on the market, due to the customer 10% discount you get on return compatible ink orders, our customers keep coming back, make sure you purchase your compatible HP Officejet 4610 cartridges also known as the HP 364 ink from Internet-Ink today!
Buy HP Officejet 4610 ink cartridges with an array of all of the colours and black cartridges available to purchases with fast free delivery. Buy HP Officejet 4610 ink cartridges which are available in both genuine and compatible ink cartridges for this printer.
HP Officejet 4610 Compatible Ink Cartridges
Buy HP Officejet 4610 compatible ink cartridges from Internet-Ink. Our compatible offer great printing and are some of the best compatible inks on the market, why not check out our compatible ink reviews.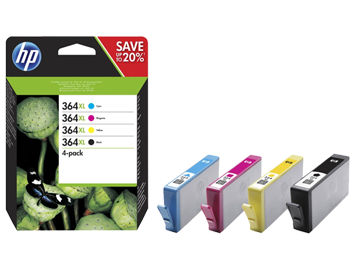 All HP4610 compatible in comes with a 1 year guarantee and our amazing customer support team on hand to help you out and get the best value for your cartridges. If you're looking for the cheapest printer cartridges for your HP Officejet 4610 then why not have a look at the saver multipacks available they offer big savings and come with 2 free extra black ink cartridges.
We all know the mess and cost of refillable ink cartridges for the HP Officejet 4610, so here at Internet-Ink we take all the mess out of it. There is no need for a CISS ink kit for your HP printer either as the Officejet 4610 compatible ink cartridges will slot into your printer and produce high quality printing at the cheaper price. All our Officejet 4610 are refilled to the max and chipped ready for us in your HP Officejet 4610 printer, so don't forget, that for all your return orders of compatible HP 364XL ink you'll get a further 10% off your order making it the cheapest price for your ink!
Ink Compatible with the HP Officejet 4610 Printer
The HP Officejet 4610 364XL ink cartridges are also known as the HP 364 XL inks they have the 364 XL black, 364 XL cyan, 364XL magenta and 364 XL yellow and photo black in stock. If you're looking for the 4610 Officejet ink multipack then check out the HP 364XL pack, which offers a saving by buying the printer cartridges together. You can purchase all your ink directly from Internet-Ink secure online store at some of the cheapest prices online and don't forget when you return you'll save a further 10% off our own brand Officejet 4610 compatible ink.
Cheap HP Officejet 4610 Original and Compatible Ink Cartridges
The HP Officejet 4610 ink consists of the ever popular HP 364 ink cartridge range, providing longevity and smudge free prints offering fantastic value with the compatible 364 printer ink. The HP Officejet 4610 ink uses black and 3 colours only so make sure the multipack that you purchase only contains 4 units and not the photo black for the HP Officejet 4610 ink cartridges. The HP 364 ink cartridges are available in both original and compatible cartridges so you can get the right ink.
So when you need to buy a replacement for your HP Officejet 4610 printer look no further than Internet-Ink, the printer cartridges will be compatible with your computer and are compatible with the brands such as HP as some people call it. What we would advise is that if you have purchased a new computer or looking for a new set of ink for your HP Officejet 4610 printer is to buy a compatible multipack to make sure all the ink cartridges work. If you need any help please do get in contact with our support team for anywhere, which, what or why questions you have on your HP Officejet 4610 printer ink choices as we offer an all-round value service.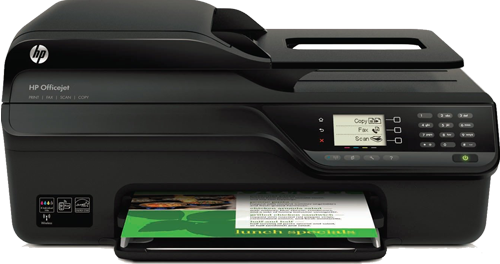 All HP Officejet 4610 ink is covered by our 1 year guarantee and offer great prints at outstanding value. If you're having any problems choosing or deciding on your HP Officejet 4610 ink cartridges just get in contact with our top rated customer support team to guide you through the process on the Freephone number. Internet-Ink is here to help with your HP Officejet 4610 cartridges, order today and start saving money on your HP 364 ink cartridges.
HP Officejet 4610 Ink Cartridges Delivered Straight to Your Doorstep
Don't forget with all Internet-ink HP Officejet 4610 ink purchases you can get 10% off all your future orders making the price even cheaper, with the added bonus of FAST FREE Royal Mail delivery right to your door. Save the stress of leaving the warm, cosy home and let us do all the work for you.
HP Officejet 4610 e-All-in-One Review
The HP Officejet 4610 printer is ideal for taking up that small compact space in your home, if you're in the market for a new printer.
Buy HP Officejet 4610 ink cartridges with Fast Free delivery at Internet-Ink. Ideal printing at home or in the office. The Officejet 4610 offers great value affordable cartridges at an unbeatable price, make sure you get the best deal by looking at the great value HP multipacks to keep you printing for longer.
The HP 4610 offers a simple and elegant compact design, with Wi-Fi capability features and superb performance with an array of printing features, this is an ideal home printer for a multi-tasking individual or family home for both imagery and textual documents.
By purchasing this printer, like other HP printers the Officejet 4610 contains individual ink cartridge slots to place all the colours including black, cyan, magenta and yellow for your HP printer. This printer can accept both genuine HP and money saving compatible ink cartridges which perform at a fantastic level when printing.
Printing, scanning and faxing, the HP Officejet 4610 seems perfect for the small business office. With HP's famous ePrint technology, you don't even need to set the printer up. Simply send an email to the printers address and it will automatically print. The Officejet 4610 has an impressive document feeder so you won't have to keep a close eye on your paper level. Unfortunately the HP Officejet 4620 comes without an Ethernet port, which for saying it was designed for the office in mind, is a large oversight. The 4620 therefore requires either a wireless or USB connection, which some offices are not set up to supply.
Advantages of the HP Officejet 4610 Printer
- All-in-one, includes fax .
- Good photo prints.
- Popular HP 364 ink.
- Cloud printing
- Automatic document feeder
Disadvantages of the HP Officejet 4610 Printer
- No Ethernet port.
- Requires USB or Wireless to connect
- Slow print speeds
The lack of Ethernet port may be a large issue for those wanting to use the HP Officejet 4610 in an ill-equipped office, but those with Wi-Fi should see the benefits of this all-in-one printer. With the inclusion of HP 364 ink cartridges the Officejet 4610 produces high quality prints that could be perfect for personal use, and is worth considering. Internet-Ink recommended.