HP Photosmart 7520 Ink Cartridges | Compatible 7520 Ink | Free UK Delivery
Shop for our high quality HP Photosmart 7520 ink cartridges. We stock both the original and compatible HP 364 ink cartridges which are designed especially for the Photosmart 7520 printers.
Our Extra Large (XL) HP 364 compatible Photosmart 7520 ink cartridges contains over TWICE the amount of ink than HP original XL printer inks. Rest assured these replacement inks are guaranteed to work as well as the original HP 364 cartridges for the Photosmart 7520 printer. Our compatible ink cartridges contain 24ml of ink per cartridge as opposed to 6ml in originals and come with a 1 year guarantee, free delivery and 10% off future compatible ink orders. Find out more information by selecting the products below.
11 Matches
Buy HP Photosmart 7520 Ink Cartridges at Internet-ink for free delivery, a 1 year guarantee and 10% off your next HP Photosmart 7520 Ink order.
Affordable HP Photosmart 7520 Ink Cartridges Online
The HP Photosmart 7520 Ink uses easy to install individual cartridges, so you only need to replace the colours you have used, making the HP Photosmart 7520 an affordable inkjet printer. Costs can be kept down further by using the high capacity 364 XL ink cartridges which hold more ink and so help to make printing costs cheap.
Cheap Compatible HP Photosmart 7520 Ink Cartridges at Internet-ink
The HP Photosmart 7520 can use original HP 364 cartridges available in standard and high capacity XL cartridge sizes. For cheaper HP Photosmart 7520 Ink, Internet-inks compatible ink cartridges offer a cheaper solution. These compatible cartridges produce the same quality results as original HP cartridges, but for less.
Buy HP 7520 compatible ink cartridges from Internet-Ink. Our compatible inks offer great printing and are some of the best compatible printing inks on the market, why not check out our compatible ink reviews. All HP Photosmart 7520 ink cartridges compatible in comes with a 1 year guarantee and our fantastic customer support team on hand to help you out and get the best value for your cartridges. If you're looking for the cheapest printer cartridges for your HP 7520 then why not a look at the saver multipack available have they offer better ink big savings and come with 2 free black ink cartridge.
Get 10% Discount off Compatible 7520 Printer Ink
Don't forget Internet-Ink offer some of the cheapest 7520 ink on the market, due to the customer 10% discount you get on return compatible ink orders, our customers keep coming back, make sure you purchase your compatible HP Photosmart 7520 cartridges also known as the 364 XL ink from Internet-Ink today!
Buy HP 7520 ink cartridges with a range of the colours and black cartridges available to purchase with fast free delivery. Buy HP Photosmart 7520 ink cartridges which are available in both genuine and compatible ink cartridges for this printer.
HP Photosmart 7520 Ink Delivered for Free at Internet-ink
At Internet-ink, all HP Photosmart 7520 ink are delivered for free using Royal Mail 1st Class. Order your HP Photosmart 7520 Ink today for a 1 year guarantee on your cartridges and get 10% off your next HP Photosmart 7520 Ink order.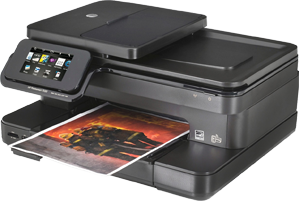 HP Photosmart 7520 Ink Printer Review
HP's latest range of Photosmart printers is ideal for the home user that wants to produce high-quality images with little hassle.
Although the machine is capable of creating remarkable photos, it can also quickly print documents and comes in at under £120. With its contemporary design, HP's printer fits in perfectly with your home - no matter what your chosen colour scheme or theme is.
The HP Photosmart 7520 is built to recognise the often blurred line between home and office thanks to its built-in fax and an Automatic Document Feeder (ADF). Around the back of the printer is a USB socket for home computers, as well as two phone sockets for the phone line and extension handset.
However, most customers will rely on a wireless connection, which is easily to set up with the HP Photosmart 7520, and makes features like ePrint and AirPrint, easy to use. The machine's five printer ink cartridges are simple to replace and give the home user a second black - to ensure the highest quality in family photos.